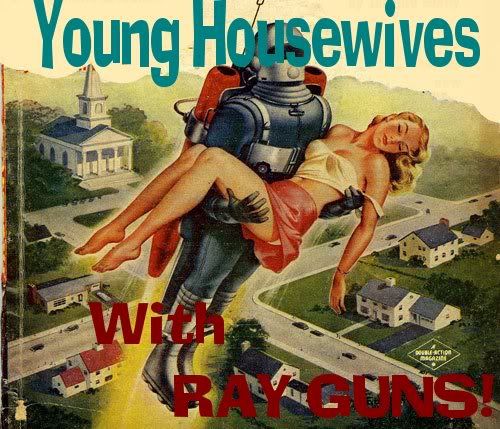 At 22 years old, Emily was hardly the youngest housewife in West Cloverdale. Indeed, she like so many other attractive young women had carefully played by the rules, attracted themselves a husband, and been swept away to the suburbs.
Though not the youngest, Emily had one thing going for her- one thing, set aside a prizewinning pair of legs from a darker period of her life when she danced naked for beatniks. The "Miss Rack 1958″ contest had been a battle hard won for her- No, what Emily had going for her was that she was smart as a whip.
For some number of months, she had lived out the life she had dreamed would fulfill her- Dressing for her husband, undressing for her husband, vacuuming in high heels, cooking roasts in a ridiculous garter belt, all precisely as she had anticipated. Even the sex had been exactly as satisfying as she had expected- which is to say "not at all satisfying", but Emily had been well groomed, and was prepared for all kinds of sexual mediocrity.
Having discovered ways to entice her husband Gary with sexualized domestic tasks, she had freed up time during the day to continue her experiments. Having coyly seduced Gary into providing her with an increased daily allowance, she had the means to call in an excavation crew, and build an immense secret laboratory in the basement. The neighbours, whom Emily had informed of some bomb shelter construction, were none the wiser, and the right flip of the hair and sparkle of the eye had given Emily unprecedented discounts from the trades assisting her during construction. Indeed, had Emily the inclination to go into general contracting, her costs would have been easily 80% less than anyone else. Even she was amazed by the amount of concrete one can get for free with just the right outfit- and a blowjob- just the right outfit and a blow job.
In any case, on this particular Wednesday morning, she kissed her husband goodbye, and not two minutes after he departed, a courier showed up with the last of the instrumentation she would need. Much of the equipment was on permanent loan from a nearby university, where she had found the gentlemen of the physics department particularly easy to convince. Emily recalled with a chuckle that she had spent hours moisturizing her lips for naught. So dumbfounded were the physicists by the sincere interest of a beautiful young woman that they had simply donated their equipment without the necessity for even one quick handroll.
With practiced restraint, she looked puzzled at the heavy contents of the courier box, smiled coquettishly at the courier driver and, immediately upon his departure, bolted the front door and descended into her lab. The entrance was directly beside the bomb shelter which she had, in fact, put in. While the bomb shelter was behind an obvious metal door, her laboratory was disguised behind a storage shelf labeled "feminine needs", ensuring her husband would never dare to approach it.
Arriving in the nerve center of her laboratory, she flicked on the overhead lights and set about her work. A big as a football field, and perhaps 300 feet tall, the room was filled with metal cabinets, buzzing and whirring. Emily heaved the large, freshly-received cardboard box up onto a work table, and opened it with her switchblade ( A personal security measure she always tusked in the thigh band of her stocking). The box was full to the brim with metal-oxide transistors. Having had a similarly easy time getting a referral from a fellow at Texas Instruments to her effortless success on the equipment loan from the physicists, a more than eager Doctor Winthrop had arguably broken seven national security laws, and told Emily extensively about the work being done at Bell Labs on new miniaturized transistors. One polite site visit later, and hardly more effort than unbuttoning one button more than necessary, and she was essentially swimming in tiny black silicon transistors.
Soldering the last panel for her supercomputer, Emily laughed to herself at the folly of her good friend Gwendolyn's advice. "Use tubes, Emily, they are cheaper, and easier to find!". Gwendolyn was a dear sweet woman, and handy as she may have been with what sorts of logic sets were Turing Complete, she was out of her element when it came to ray gun design, most certainly.
Finished at last. Emily hastened to invite her entire knitting club over to see the finished product. Gwendolyn arrived first, followed by Cynthia and Cathy. Credit to the girls, they all arrived dressed to nines, even when it was ten fifteen in the morning. The fact that most of the ladies refused to wear anything but high heels had necessitated the welding of small stepping plates onto the entire launch gantry, costing Emily a week of time. Cynthia had badly burned herself with the acetylene torch, and had to rush home to prepare a turkey dinner for plausible deniability. The ladies were all eating turkey leftovers for a week after that.
Cathy let out a low whistle. Even she, having worked so hard on this project, was amazed by the result. A rocket in a silo beneath Emily's swimming pool, banks and banks of telemetry equipment, the most complex radio remote system ever invented, and a satellite mounted ray gun that would give the ladies everything they had ever dreamed.
Gwendolyn looked in awe. "How did you solve the power issue? We never got the solar working".
"Plutonium. Ten kilos of weapons grade plutonium" replied Emily.
"Shirt button?" Asked Gwendolyn, optimistically.
"That one was a blow job". Emily replied, with slight distatse.
"Fucking feds." Cathy added.
"Ladies." began Emily, "Tomorrow is the fourth of July. And there will be enough uncontrolled fireworks going off that no one will notice our rocket launch. Cathy, do you have the hors d'ouvres prepared?"
Cathy nodded. Gwendolyn piped in "Everything is ready for the barbecue at my place. Norman is convinced it takes half an hour to prepare my "fresh" lemonade, and that should buy two of us at least enough time to launch the rocket. That reminds me, Cynthia, can you make some lemonade with me early tomorrow, and we'll pop the rinds in the deep freeze?"
"Not a problem." said Cynthia "I have airport radar resolved, but little Timothy still has the croup, and I missed the meeting on NORAD."
"Awww!" Cooed Emily "How is little Timmy?".
"I've got a wet compress on his head, and I gave him an aspirin." said Cynthia.
"well, I hope he feel better for tomorrow, I made jello salad for the kids table, with marshmallows". Said Emily. "But let's get down to it. Between Cathy and I we have dispensed no fewer than eight blow jobs and 4 topless dances at NORAD, and their tracking won't be a problem."
"I'm all ready to make the broadcast announcement, and the helicopter is fueled" said Gwendolyn.
"Did you get that stain out of the cockpit seat?" Asked Cathy, tugging nervously at the hem of her immaculate silk cocktail dress.
"Baking soda" Replied Gwendolyn.
"The last decision is to choose a target, ladies." said Emily. They looked at each other for a long time. none had given the target much thought. The silence continued for some time.
"Look, you can't make an omelette without breaking a few eggs, and you can't build an atomic death ray without irradiating a few cities." said Emily.
"What about Moscow?" Cathy offered.
"Probably trigger a nuclear response. No, it has to be domestic". Emily said.
"So Tokyo is out". said Gwendolyn, sliding her cat-eye glasses up the bridge of her slightly upturned nose.
"I'm afraid so. plus, Japan is where I got all these transistors." Emily said. The ladies all nodded in agreement.
There was another excruciating pause. Finally Cynthia spoke. "Chicago. Start with Chicago. If they don't meet our demands, then… then move on to San Fransisco." There was another pause, and the ladies all looked at each other, then nodded in agreement.
"Chicago it is. I never liked blues music." said Emily. "there is only one more thing, girls. It's time for the pillow fight in the soapy bubbles." And with that, Emily pulled down hard on a lever, wild jazz began playing, and these 4 beautiful housewives/scientists had a lesbian orgy like you couldn't possibly believe.