Posted by
RobbieRobTown
on Jul 15th, 2009 in
Essays
,
Writing
|
6 comments
Good news everyone! We have excerpts from the 2009 guidebook to Middle Earth!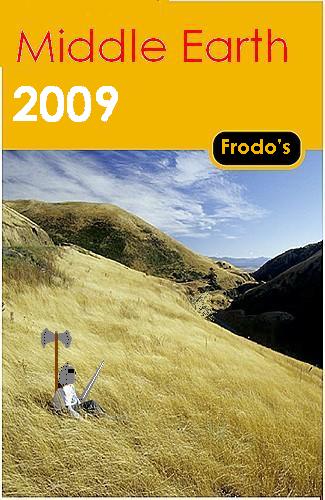 Staying in the Barrow Downs:
Accommodations:

Accommodations are available, but dusty at best. If your room has a barrow wight, you'll want to put in a call to Tom Bombadil, his songs are the strongest.
Weather:
While the weather on the downs itself is temperate, the weather inside the barrows tends to be clammy and chilled. You probably don't need rain gear, as the thought of returning to the surface will be overwhelmed by the soul-sucking desire to stay where you are and die.
Dining out:
Unless you ate with Tom Bombadil and Goldberry, or are packing lembas, it's going to be pretty slim pickings on the downs.  Wights have an unparalleled disinterest in fine cuisine, unless, again,  you count sucking your will to live as dining, which the authors of this guidebook certainly do not.
********
Isengard and Area:
Accommodations:
Since only the foolhardy would risk the Fangorn forest, Orthanc becomes the only viable housing in much of Isengard. Sadly, to paraphrase Gandalf's review of Edoras in the Riddermark, the  courtesy of this hall is somewhat lessened of late.  There is really only one central room in Orthanc, and recent guests have found the interior to be a post-modern hodgepodge of a design- somewhat like the Fortress of Solitude, but with none of the Scandinavian cleanliness. The roof, watch your step, is exceptionally spiky, and being hurled against it repeatedly would be uncomfortable at best.
Entertainment:
Well, it's a real stretch to call an Entmoot entertaining, so bring your special brownies if you are going to listen to this listless whale music all night. Otherwise, it's a view of the orc pits which, while industrial, are quite remarkable. The writers of this guidebook heartily recommend you bring your pipeweed either way.
********
Rivendell/ Imladris:
Entertainment:
The mood of Rivendell is entirely dependent on the mood of the Elves. Visit with Bilbo, and it's all show tunes and travel songs, ALL THE TIME. Visit during the end of the Third Age, and it's all Elrond being pissy, and hardly a jam session or drum circle in sight. We recommend going during the summer.
If you are out dancing, we recommend learning the Misty Mountain Hop.
Timekeeping:
Bring a world clock with you, time passes differently in Rivendell than it does in the rest of Middle Earth.  Women on oral contraceptives should take note, especially if they have had anything to drink while visiting Fangorn forest…
Language:
Learning Elvish is a bit like learning Castilian Spanish. Expect to do a lot of lisping.
*******
The Mines of Moria:
Security and Access:
If you want to get in through the Doors of Durin, don't forget your password. We cannot emphasize this enough. The neighbourhood outside the doors is run down, and the nearby lake is not safe for swimming. The Watcher in the Lake is not  to be mistaken for a lifeguard.
Balrog encounters:
Near the bridge of Khazad-Dum, but anywhere in the main mine really, you might encounter a Balrog. First off, it is NOT more scared of you than you are of it. This is a common misconception. Do NOT, under any circumstances, attempt to feed the Balrog. Unless you are the servant of a sacred fire, and the wielder of the Flame of Anor, you are likely to be eaten.  Here are some tips:
1. Store your food in designated Balrog proof containers, or regional parks "food hang" sites.
2. Avoid any sudden movement and loud noises. This is also useful when avoiding large parties of orcs with cave trolls.
3. Play dead. The Balrog isn't so much interested in eating you, as he is interested in destroying you.
4. Do not leave your party to take flash photography of the Balrog.  Most large creatures are annoyed by camera flashes, especially those that live in the dark.
*******
Mordor on 1-2 days:
Highlights:

If you loved the pomp and circumstance of the Black Gates, we think you'll be disappointed by the alternate entrance at  Minas Morgul, particularly if you don't like spiders.
Getting around:
The terrain in Mordor is largely volcanic, and we heartily recommend a good pair of hiking boots. Your casual walking shoes simply will not do.
Travel though Mordor is mostly forced marches, so try not to get dehydrated, or frustrated by the constant shouting and whipping.
Security:
The All Seeing Eye is a remarkable security feature. It's sees inside you soul and knows your will. On the down side, the eye has it's own agenda, but rest assured, you are under constant surveillance. Travelling to any country with a police-state ethic like this can be a blessing and a curse, but it's best just to go with the flow, stick to the rules, and enjoy the security benefits. Unlike Singapore, chewing gum is allowed.
Shopping in Mordor:
The main commodity of interest is the One Ring, though any of the great rings are up for discussion. If you have the One Ring, expect to be drawn inextricably to Barad-Dur, and expect headaches, insomnia, and depression.
Other transactions in Mordor are made primarily by stabbing you for your shiny things, so wear a money belt.
Accomodations:
The Orcs have fleas, a bed-net is strongly recommended.
Advice for Couples:
Twas in the darkest depths of Mordor I met a girl so fair, But Gollum, and the Evil One crept up and slipped away with her.
Language:
The Black speech of Mordor will get you negative attention . Use the common tongue, or Orcish if you must -Or, alternatively, try Castilian Spanish.
The Shire and Surrounding Area:
Dining:
Expect to be eating all the time. Food will be your largest expense in the Shire, as Hobbits have insatiable appetites. Vegans, vegetarians, and those avoiding carbohydrates can expect limited menus, and little assistance from the halflings. In fact, those with alternative diets of any kind will be considered rude.  Try Gondor if you want a little Human understanding about your digestive issues. Otherwise, make with the sticky cakes.
Shopping in the Shire:
Well, while the wares available in the shire are by no means as technically brilliant as those made by the dwarves, nor as elegant as those of the elves, there are a lot of off-brand options. Leather goods, walking sticks, detailed regional maps, and tupperware are all readily available.
Safety:
Get used to feeling tall. As a practice, duck every time you enter a building.
Health Concerns:
The Hobbits never wear shoes. The fact that they are constantly eating and strolling around without footwear is difficult for some travellers. No matter how well groomed the Hobbits are, the subtle foot smell is pervasive. Again, the writers of this guide cannot emphasize this enough. PERVASIVE FOOT SMELL.
Diabetics can expect death by snacks, and non diabetics can expect to develop type II diabetes.
Romance for Singles:
Of all the lands you might travel to, you are most likely to find yourself attractive in the Shire.  If your preferences tend to sway towards short, stocky, foot-odoured people, then this might be just the adventure you've been looking for. Beware a sort of reverse racism, your height and good looks might garner suspicion and even disdain.  If trying to impress a potential partner, discussion of your travel outside the Shire is considered uncouth. Try sticking to the basics like how much you enjoy potatoes, or how attractive you find their curly foot hair. Do not bring up the PERVASIVE FOOT SMELL.