It all started out as a bit of fun.
An associate of mine at work sent me this link:
http://www.bbc.co.uk/dna/h2g2/A506648
It details all of the so-called "Paul is Dead Evidence."
"Boy…that's scraping the bottom of the barrel" I said, foolishly thinking that would be the end of it
However, my compatriot replied with
"This is actually pretty compelling…"
I was shocked to think that he would actually believe that Paul might be dead. He may be dead broke after the divorce, but hardly dead. However, this fellow admonished me to read the evidence more closely and to have an open mind. I admonished him to maybe try using his mind a little more closely. I eventually got it out of him that although he doubted (Was not fully convinced mind you, but "Doubted") that Paul was dead, he felt the evidence was compelling enough for him to believe that the Beatles did all that stuff ON PURPOSE, as some sort of secret message to the fans.
You know who else thought the Beatles were giving him secret messages?
Charles Manson.
Now I have recently got into trouble with people for vehemently arguing against Astrology, Psychics, Magic and various Conspiracy theories…Argue about what people think, and they'll disagree with you. Argue about what they believe and suddenly you are painted like the world's biggest asshole. I wasn't about to be drawn into this pile of horseshit again, so as much as it pained me I did what I could to avoid arguing with him. What I did do was send the link to my Best Pal Trevor, who must be consulted on all things Rock Music trivia related.
He got a kick out of it, and pointed out that the same fallacious logic could be used to "Prove" anyone's death. That's when he wrote a sentence that would occupy the rest of our day and cause us to get little or no work done.
"Sting is dead…the current Sting is an imposter. Discuss."
And we did. Here is what we came up with. Brace yourself for some pretty compelling evidence!
-The song "Canary in a Coal Mine" refers to the practice of putting canaries down mine shafts to test for toxic fumes. If the Canary dies, the mine is unsafe. Is Sting the canary? Let's take a look at the cover of "Synchronicity" for a moment…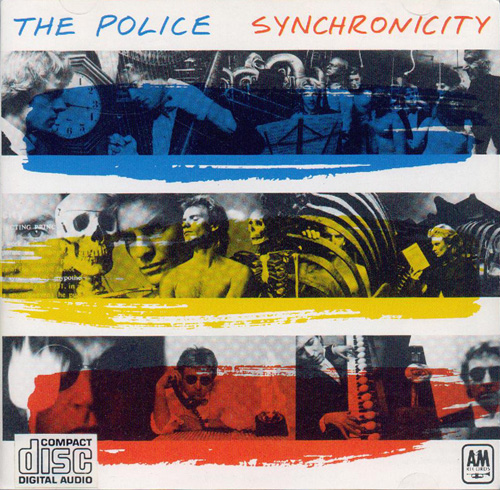 Notice that Sting's "colour" is yellow, the same as a canary. Plus he is next to a Skeleton, which is of course an internationally accepted symbol of death. Peering out from behind bones. And look in the middle…eyes closed… at peace..dead?
This bears further investigation…How about we have a look at the album before that…Ghost in the Machine…Wait a minute GHOST in the Machine? The Machine being the Police…? Let's take a look at THAT one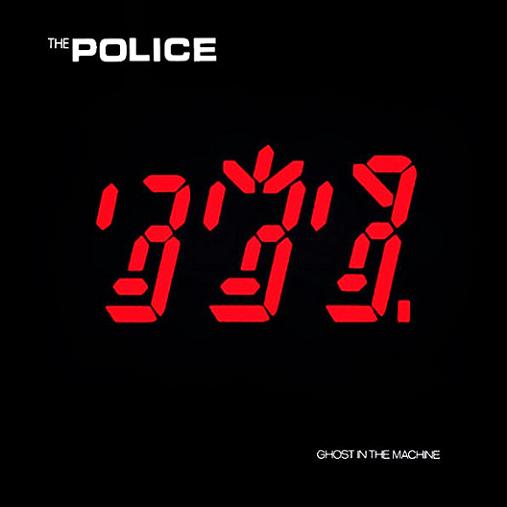 Aha! Apart from the obvious clue in the title we are also given some visual clues. The digitized Sting in the middle (a false image of him) has those three lines coming out of his head. This is reminiscent of a halo in a medieval painting. It could also be Sting's head exploding! This from "Truth hit's everybody" on Outlandos D'amour
Take a look at my new toy
It'll blow your head in two, oh boy
Truth hits everybody
Truth hits everyone
I thought about it and my dream was broken
I clutch at images like dying breath
And I don't want to make a fuss about it
The only certain thing in life is death.
If nothing else this shows Sting's early preoccupation with Death, and could explain the brain spattering effect on the album cover. Let's pull Zenyatta Mondatta out of the old cd rack shall we?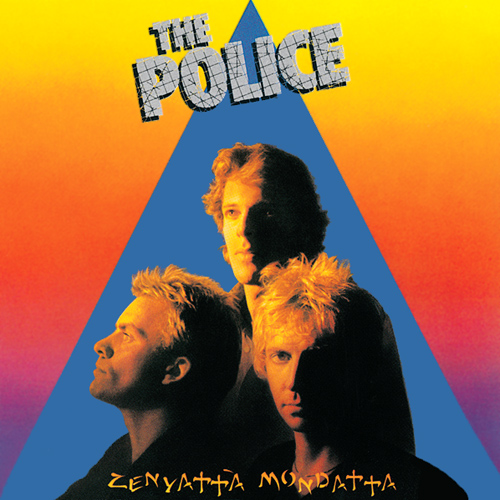 Now this IS peculiar…Stewart and Andy are facing forward…and Sting is facing west…toward a sunset? A sunset that he has long since ridden into? And what is that triangle indicative of? Well if we look at it not like a triangle, but as a PYRAMID then the meaning becomes clearer. The Pyramids are ancient tombs, tombs where important people and kings of ..: Egypt were buried…does this tomb hold the King of Pain?
Our well educated analysis of the first two album covers Outlandos D'Amour and Regatta De Blanc reveals very little, the "Sting is Dead " Evidence starts to show up on Zenyatta Modatta. Plus most of the suicide themed songs are on the first two albums. "Can't Stand Losing You", ("I guess you'd call it suicide, but I'm too full to swallow my pride")"Bring on the Night"(A plea for death by Sting) "So Lonely" (a reason for suicide) "There's a Hole In My Life" (and his head?) and "Message in a Bottle". (Clearly a suicide note)
So we can deduce that Sting committed suicide after Regatta but before Zenyatta. As an interesting side note, Sting allegedly refused to play on the track "Behind my Camel"…refused to play…or couldn't because he was dead? And "camel" once again reinforces the Egyptian tomb imagery.
The clues that Sting is no longer with them after that are numerous…
- "Man in a Suitcase" a metaphor for Sting in a coffin
- "The Other Way of Stopping" which would be…death!
- "Spirits in the Material World"…duh!
- "Darkness" The Darkness of Death
- "Miss Gredenko" "I don't want to rock your boat, but you sent this dangerous note" again, suicide.
Plus you can totally the word "Sting" out of Miss Gredenko…if you spell it Miss Gredentko.
But what of this Imposter Sting, this Pseudo Sting hired in an elaborate world wide but somehow still miraculously secret look alike contest. What evidence is there of his existence? Plenty. Does he look the same from album to album? Look closely! But the true clues are in the songs…
-"When the world is running down, you make the best of what's still around", as in making the best of a Post Sting Police!
-"Driven to Tears" The Band mourns their Band mate. (Well, Andy does anyway…not so sure about Stewart…It may have even been murder now that I think of it…"Murder By Numbers"…I'm watching you Copeland…Every move you make!)
"Walking in your Footsteps" A Song from Sting 2 about Sting 1!
"Every breath you take" "Since you've gone I've been lost without a trace…I look around but it's you I can't replace" Aha!! Replacement Sting fesses up!
"Wrapped around your Finger" a song about a servant taking over for the master!
So what have we learned? Well, clearly that Sting offed himself (or was murdered) with a gunshot wound to the head after Regatta De Blanc, and replaced by an imposter which makes total sense! It would explain his previous reluctance to reunite with the group and his reluctance to perform much of his "Police" material. I mean think about it…would the Sting you know and love from the Police have released an album of 16th century lute music?
We also learned that Trevor and I have way too much time on our hands.
There you have it…fun with specious logic. Now it's your turn.
The Spin Doctors went on to change their look and become Coldplay.
Discuss.