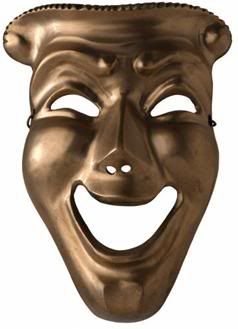 Before we begin, I would once again like to stress and clarify that these are my FAVOURITE performances. The "Best" performances would be a different kind of debate, and would, if the AFI is to be believed, need to involve a lengthy discussion of "Some Like it Hot" a movie that I appear to be completely alone in not giving a shit about.
You should also know, that my love of Python is sacred and pure, and my exclusion of them is only because they would dominate everything on the list. If I didn't have that rule in place, the list would be "My Favourite Monty Python Guys" and the list would be only 6 items long. This is a strictly Non-Python list
So after struggling with the order, I finally narrowed it down to ten, but it proved so difficult, I felt the need to include this rather lengthy honorable mention list…

Honorable Mentions:
Kevin Kline – A Fish Called Wanda (I'm DissaPOINTED!!!!),
Steve Martin – Dirty Rotten Scoundrels ("not mother?" "Oaklahoma! Oaklahoma Oaklahoma!") and The Jerk ("I just need this ashtray…) or The Man with Two Brains for that matter ("Get that CAT out of here!")
Robert Downey Jr. – Tropic Thunder (For passing the phrase "Full Retard" into the vernacular)
Woody Allen – Annie Hall("Don't you wish real life was like this?")
Gene Wilder – Blazing Saddles ("Yeah but I shoot with THIS hand")
Jennifer Coolidge – Best In Show ("we could talk or, not talk…for hours")
Fred Willard – A Mighty Wind ("Wha Happened? " actually, Fred Willard in ANY Christopher Guest movie)
Madeline Kahn – Clue (Yes, I HATED her HATED… FLAMES!!! FLAMES!!!)
Bill Murray – Caddyshack ("Cindrella story…Outta nowhere…")
Dan Akroyd – The Blues Brothers ("You want I should wipe da bugs off yer windshield?")
Jim Carrey – Dumb and Dumber ("Big Gulp's huh? Well, see ya!)
Harry Shearer – Spinal Tap ("are we going to do Stonehenge tomorrow?")
Rick Moranis – Ghostbusters ("Ghostbusters…? Who does your taxes?")
So with that out of the way, I present to you my
Top Ten Favourite Performances in a Comedy Movie.
10.Chevy Chase: National Lampoon's Vacation
Call me a purist, but I don't like ANY of the sequels to this movie. The dark edge of Vacation was quickly replaced by the broad double takes and crass one liners in its sequels. Clark Griswald was clearly an idiot, but he was a much more relate-able idiot in the first movie…certainly a more empathetic one. Chevy's dry delivery, and put upon patience works perfectly and it makes his blow up at the end believable and hilarious. The original is a classic, thanks in no small part to Chevy Chase
9. Steve Carell: Anchorman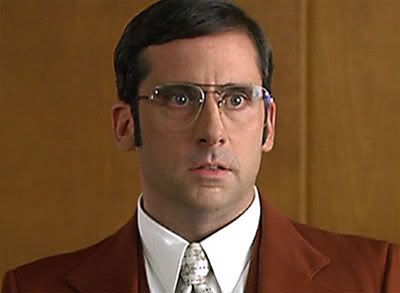 Steve Carell committed an act of grand larceny…he out and out stole Anchorman from Will Ferrell. This is the performance that got him The 40 Year Old Virgin, which launched him as a comedy superstar. That utterly blank stare, complete cluelessness, desperate to keep up with the machismo around him. Almost every phrase he utters is a gem. But Will Ferrell needn't worry because number 8 is…
8.Will Ferrell: Elf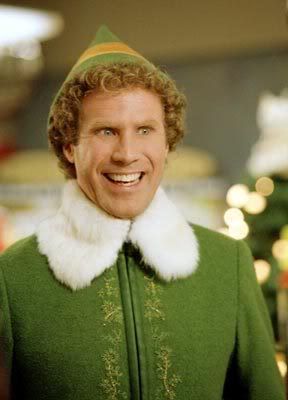 Pure unabashed joy. I laughed over "Good News, I saw a dog today!" for days afterward. Now to be fair, I'm a complete sucker for Christmas, but I think we can all agree if there is a character tailor made for Will Ferrell's gifts, it's Buddy the Elf. No one does over the top enthusiasm better. I wasn't a Will Ferell fan until I saw this movie.
7.Peter Sellers: Dr. Strangelove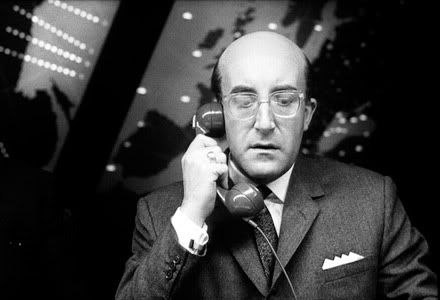 Jesus, where do I start? Perhaps I'll start by griping that this comedic performance for the ages was ROBBED of an Oscar by David Fucking Niven sleepwalking his way through "My Fair Lady". If you ever doubt that comedy will always be a second class citizen on award shows, you need look no further than that. All three of the characters Sellers played in this movie are NOTE PERFECT, but I have a special place in my heart for the President… "Demitri…? How do you think I feel?" This is a comedic genius at the height of his powers
6. Catherine O'Hara : Waiting for Guffman
No one does purposely bad acting better than Catherine O'Hara. It's almost like she embarked on a 5 week tour of small town amateur theatres to prepare for the role. She has every nuance down, the weird rising inflection, the grade school hammy acting, the awkward shuffling stage movement, and the inflated sense of importance. She is great in everything she does, but this performance is so layered, and so funny, it stands head and shoulders above just about everything else she's done.
5.John Belushi: National Lampoon's Animal House
This one is as much about the iconography as it is the performance…this list would be woefully inadequate without a mention of Bluto. The scene where they are sneaking in to the stables alone is worth his inclusion, that's not even mentioning The Pep talk (Both to Flounder and to his recently expelled Deltas) and the Ladder scene. Belushi was a star the minute he set foot on the stage at Second City…this is the movie where he let everyone else know it.
4. Christopher Guest: This is Spinal Tap
This is a standout performance in a movie that is wall to wall great performances. And not just through the oft quoted bits…one of my favorite scenes is when Nigel goes back to the dressing room to tell his former band mates that Sex farm is charting in Japan. ("Spinal Tap's recording of Sex Farm?") He says more with a look and a shrug than most actors say with a three page monologue. Go back and have another look at that scene, even so called "Dramatic actors" could learn a lesson or two there.
3.Leslie Nielsen: Airplane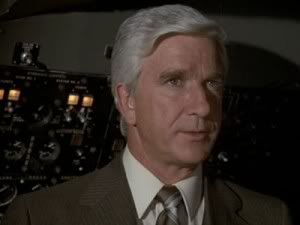 Once upon a time , Leslie Nielsen had no clue he was funny. That became the key to his success in Airplane, which is played stone cold straight no matter how absurd things got. For awhile, there was no one better for Zucker Abrams style lunacy. But, as he got cast in more and more comedies, he started "trying" to be funny, and it devolved into shameless and painful mugging, until he was a direct to video shadow of his former greatness. But we will always have this performance in Airplane, one of the funniest performances in one of the funniest movie's ever made.

2. Richard E, Grant: Withnail and I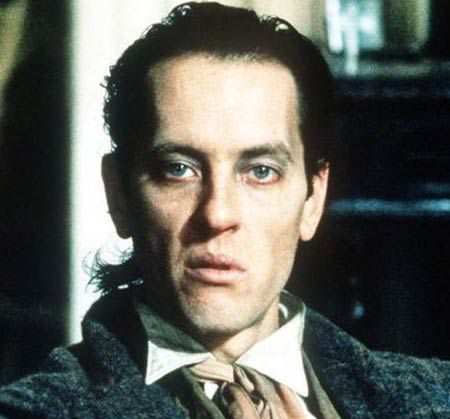 He is a selfish, arrogant, cowardly, manipulative, irredeemable alcoholic bastard, and by the time the movie is over and he is reciting Hamlet in the rain at Hyde Park damned if you don't love the guy. Or at least feel for him. This is a brilliant, insanely quotable performance, one that will follow Richard E. Grant around until the end of his days. (But somehow, I don't think he minds) It takes a lot of doing to make this monster human and likeable. When you consider Grant is a complete teetotaler, it becomes even more impressive.
And my Favourite performance in a comedy movie…
1. Bill Murray: Ghostbusters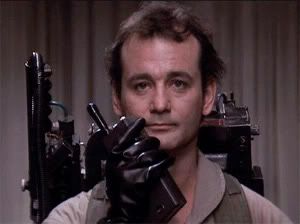 "I'm so excited…you are about to find out who to call"
-Zombieland
I had a "Ghostbusters quote-a-thon" on my Facebook status recently and 98 percent of the quotes came from Bill Murray's Dr. Peter Venkmen. He is throwing away lines most actors would kill for with a casual shrug because there are so many more coming. There is never a moment in this movie when he is NOT funny, and it all looks so fucking EFFORTLESS. He is the only guy in the world who can look goofy and cool at the exact same time. When you say "Bill Murray" this is the role you picture…the laid back sarcastic shyster, this role more than any other sums up why we love the guy so much. He made the line "I'm gonna check the fridge" funny, for God's sake. I wouldn't have thought that was humanly possible.
So there it is…another list for you to debate with me and amongst yourselves. Did I miss anyone? Let me know!