Posted by
admin_rock
on May 15th, 2012 in
Television
|
7 comments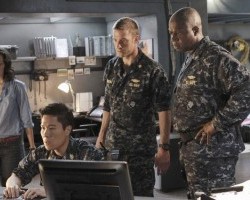 Another TV related post today. You know those people who say "I don't watch TV", while looking down their noses at you? Well, f*ck those people. I'm TV's bitch. TV and I love each other, and YOU CAN'T STOP OUR LOVE!!!!
ABC has released their trailer for a new series called "Last Resort". It passed the Admin_Rock test for watch-worthiness pretty quickly. It's Exec producer is Shawn Ryan, of The Shield fame. It stars Andre Frickin Braugher, who I would watch reading a grocery list. (I've been rewatching the first couple of seasons of Homicide lately. Braugher is fantastic.) It takes place on a tropical island. It has submarines.
Have a look at the trailer. For the first minute or so, you're going to worry that you're watching a remake of Crimson Tide. Relax. Continue to watch. Come back when you're done.
http://abc.go.com/watch/clip/lastresort/fk_lastresort/PL55199665/VD55202675/last-resort-trailer/promos,adfree?cid=abccomsearch_results
Crazy, huh? I'm in.