Posted by
admin_rock
on Jan 9th, 2012 in
Television
|
2 comments
Last week we covered the Best in Movies for 2011 (well, genre stuff, anyways). This week, we'll look at some our favorite TV from 2011.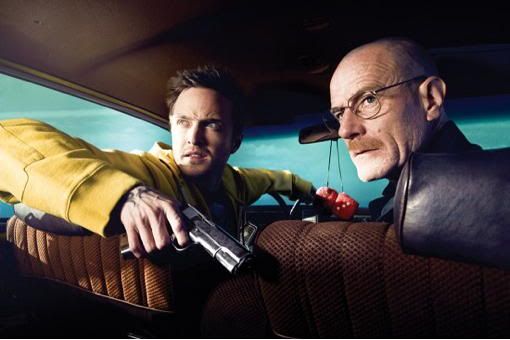 I say we, in hopes that the other boys will pitch in as well.
This is a bit tricky, as i certainly don't watch every show on the air, so there will likely be some big ones that I miss, or don't discuss. Of the top of my head, Mad Men would be one. I watched the first few episodes, and didn't really dig it. I might go back and give it another chance. The other big one would be Boardwalk Empire, which looks pretty, but bores me to tears. I like Michael Shannon's FBI character, but after sticking with it for a season of snooze, I bailed.
Drama:

Wow, I'm not watching a lot of straight up Drama, apparently.
Breaking Bad was insanely good this season, better than 4th season show has a right to be. Byran Cranston pretty much won himself the Emmy with a certain hysterical laughing scene. This is the best show on TV, bar none. The scripting, plotting, acting are all sublime. Hell, the costuming even goes beyond the norm, as characters wear specific colors to reflect the mood and plot.
House House was pretty crappy this year. Love Hugh Laurie, and love the character, but it's time to put the show out to pasture.
Parenthood This show is neither hip, nor cool, but it's the only show I know of that makes me reflect on the job of being a parent, and make me want to be a better one.
Winner:(?) Breaking Bad.
Comedy:
Louie Louie C.K. is pretty much the best the standup comedian I know of. Patton Oswalt's last record was more miss than hit, and no one else is even close. Louie is a bizarre show, staggering from straight-up comedy to hard-hitting truth, to weird dream sequences. This year was really good, with only a few slow episodes, and some great ones to temper those.
The League I love this show. Just discovered it this year, and burned through them all. Always a killer funny episode to be had. This year's was Jeff Goldblum and Sarah Silverman's Thanksgiving episode with talk of Sorbet, and a special garnish for the Turkey. Whether you like fantasy football or not is irrelevant.
Community Community is a show for people who love TV. Probably the funniest network show on (I don't dig Parks and Rec, I find it self-congratulatory and the writers try to be clever, which is always a bad idea, and the Office is done and cooked, 30 Rock I still like, but hasn't been on much this year.) The diverging reality episode was awesome, as was the D&D episode from way back.
It's Always Sunny in Philadelphia This show has been on for 7 years, but never really aired in Canada. Thus, whenever I mention it to people, they have no idea what the hell I'm talking about. Even in season 7, it's still wonderful, and Danny Devito has the best job on TV.

Modern Family: Second year, very popular, so for most internet denizens, it's time for the hate backlash to start. Not me. I think this show is hysterical. The best dialogue is reserved for those paying attention, as there's often things muttered or quickly said under the breath. Funny stuff.
Winner: The League For me, it's the one I couldn't wait for more of.
Genre:
MisFits: This one is in year 3, but it's British, so relatively unknown here. Think of it as Heroes done right with teenagers, swearing, and lots of T&A. They lost the best character on the show this year, but it's still interesting, and had the best "punching Hitler scene" of the year.
Doctor Who: This seemed very uneven, more hype than substance to me. I grew very tired of Amy Pond in a big hurry, and too many episodes seemed to be 45 mins of filler for a "shock" ending. Still worth watching, but hopefully next year is better.

Terra Nova: Terra Nova was a year of "how will it disappoint me this week". It was mostly crappy, but picked up towards the end of the year, and looks promising for next. Sci Fi is often garbage in the first season, and tends to peak around season 3. Was it "the Best of"? No. Hell no. But it was fun, and it has Dinosaurs, and big guns.
Game of Thrones: Crazy good. After the season, I went back and read the first book. Then I started the second. Here's what I know: The TV show was fantastic, the books are a bit dull and scattered. I don't like Martin's writing style at all, and he jumps around from character to character, leaving me confused as to whom I reading about . Ser Whothehellisthat and SerIcantrememberwhoyouare are my favorites.
Walking Dead: I really enjoyed Walking Dead this season. I think it's still ramping up to where it wants to be, but have less problem with the speed of the narrative than most. If you hear people bitch about how many episodes they spent at the farm, it's because they a) read the comics, and want to jump ahead to other parts, and b) they don't get that the show is still about relationships and people.
Winner: Game of Thrones
Overall: Breaking Bad
Tbinns
I have a toddler, my TV watching is sporadic at best. The best I can offer is the top two shows I WISH I had seen more of this year, and that's Louis and Game of Thrones.. I've seen more episodes of the Wiggles and Yo Gabba Gabba than both of them.
For the record, Yo Gabba Gabba has some great guests and some pretty good music behind it, so it's not all bad. And the Wiggles, well they are catchy that's for sure. I don't mean that in a good way. But some of the back up dancers are real cuties, so you take the good with the bad.
I've watched a little Modern Family, some 30 Rock and some How I met your Mother and even a little Big Bang Theory but not much else, so I am in no position to contribute.
I will say that the wife quite likes Once Upon a Time and Walking Dead. I find Walking Dead a little slow, and Once Upon a Time hasn't really hooked me, although I do like Robert Carlyle.
So my recommendation is Yo Gabba Gabba. At least the Circus episode with Weird Al Yabkivic. And check out the Aquabats "Pool Party" it is also kind of awesome.
Oh I saw exactly one episode of "The I.T. Crowd" and loved it but that is NOT 2011. I don't think.
Cub Reporter Keith
This year I moved even further away from network TV. Burned by too many serialized Lost wanna-bes that couldn't manage to film a finale to their series (I'm looking at you V & The Event).
Here without too much kibitzing are my tops in a variety of random formats:
Best Comic Book Adaptation: Human Target. Sorry to see this go. The first season was stronger, and it only had a couple of eps in 2011, but screw it. Jackie Earle Haley chewed the damned scenery and came back for seconds.
Best Genre Show: American Horror Story. Certainly not for everyone, but a solid creepy haunted house story with a great cast of folks wandering through. For extra fun, play a drinking game where you follow how many times Dylan McDermott cries (spoiler: It's a lot).
Best New Series: Homeland. I love this show. A cross of Dexter and Manchurian Candidate. A Gulf War POW returns to the States and some in the CIA suspect he's been turned into a sleeper agent. Is he or isn't he? I'm not telling. Watch.
Best Animated: Tie. Beavis & Butthead and Archer. Can't compare them straight across so can't make one winner. They are both awesome and hilarious. If I had a category for best comeback, B&B would snag that too.
Best TV Episode Featuring Booster Gold: Smallville 1018. I'm hopeful for the ScyFy pilot being made this year.
Best Show: Boardwalk Empire. Yes, including season 2. I love every minute. Richard Harrow is the most compelling character on television bar none and he barely says a word.
************************************************************************************
Give us your list, I'll put them up in the article. Let us discuss and find new things to watch from one another.
Agree? Disagree? Want to tell RRT to suck a bag of dicks? Now's your chance!