As part of our continuing service to you, The Correct, we continually find things for you to be in favour of. In our crazy, fast paced, webmanic society, it's easy to miss something. Our "A Case For" series presents something (a TV show, film, Book, Band etc) that might deserve a look.
Our first installment "A Case For: Farscape" was presented by one of our regular readers, and we encourage that sort of behaviour. If you have something you'd like to make a case for, write it up and send it to us at admin@thecorrectness.com . See the end of the article for more info.
This week, we bring you A Case For Buffy the Vampire Slayer.
Buffy and I go waaaay back. Originally, Buffy was a very strange and quirky film starring Kristy Swanson and Luke Perry. It was your typical teen comedy romance film, except for the part where the hero was a dumb cheerleader type who had a talent for killing vampires. There was a creepy and ominous Donald Sutherland as her Watcher, and she had cramps when vampires were near. What really sold the film for me was its quirky sense of humour. Paul Reubens is hysterical as the minion of the head vampire (Rutger Hauer!) His death scene belongs in some kind of hall of fame for character exits. You know what, this is getting a bit long winded. Go watch it, I'll wait….. Okay, it was better than you remember, right?!!??
At any rate, it spawned a television show which lasted 7 seasons, and a network change. In fact, it's still going on as a comic book series from Dark Horse, but I'm sure if I can get on board with that just yet.
For the Case, we'll focus on the tv show. If you've never seen it, I both envy and pity you. Buffy is a rare sci-fi TV show that doesn't suffer from a bad first season, or require any ramp up time to get to the good stuff. The first season starts strong, and things stay that way, or get even better, until about the end of the "Adam" arc (though on a second watch I found I liked the later episodes more than I remembered). We have a new family member added in the 5th season(a sister, nonetheless) , which is a "jump the shark" moment for many shows, but as we'll see below, this is no ordinary show. Season 6 stands out with some of the best one-off episodes, and season 7 takes us out with a bit of a whimper, but a lot of flourish.
1. The Characters
Buffy's characters are the reason for its success. The four core characters are all likeable and interesting. We have Buffy (Sarah Michelle Gellar), a strong but cheerful high school student, and her two closest friends, Willow (Alyson Hannigan) a shy, bookish girl, and Xander (Nicholas Brendon), a fumbling sharped tongued boy. Anthony Stuart Head (brother of Murray of "One Night in Bangkok" fame) plays Rupert Giles, Buffy's Watcher (a teacher/mentor). Along the way, we pick up many more, a few boyfriends and girlfriends, a vampire or two, a vengeance demon and a sister/key.
Whedon's power lies in his dialogue, and having a team to work with and off of suits his style perfectly. His ability to use pop culture references and nicknames makes the dialogue snappy and clever. And over the seasons, he uses the framework of characters to develop them and have them grow and change. The show deals with family, obligations, and the role of the individual within the group.
2. Perfect Tone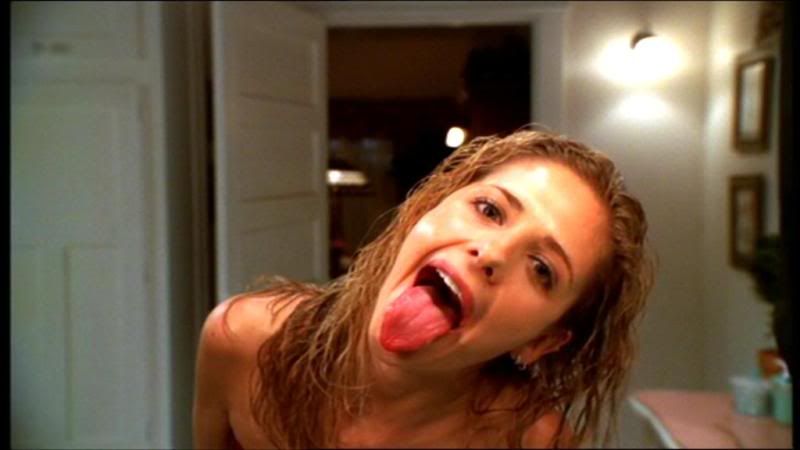 Buffy walks a fine line in tone, usually to perfection. A show filled with the supernatural and darkness could easily become morbid, slow, and gloomy. But Buffy balances that with hopeful characters, spirit and humor. We grow to love them, and root for them, even when things are looking hopeless, which is pretty much always. It's a show that knows when to lead with a smaller card, rather than try to place the Ace every time.
There is a great variety of tone and emotion throughout the show, ranging from pathos to broad comedy. It wasn't afraid to go for the throat, make you sad, or make you laugh. Sometimes, all three inside of a few minutes.
3. The Ladies
It should comes as no surprise that Buffy is filled with strong female characters. The ratio of female to male characters is at least 2 to 1, and they're all taken seriously. There's none of this Hollywood type feminism, which is having a woman talk tough, and later be saved by the man. The women of Buffy fight, solve the problem, back each other up, and do so without needing a man. One of the later seasons deals with Buffy's new boyfriend having trouble coping with the fact that she's much stronger than he is.
Trying to find a good segue from that last paragraph to showing you pictures of the hot girls now…. Ummmm…. they are strong and steadfast in their appearance as well? Screw it… here you go. By the way, this is now referred to as "Tbinnsing"

Buffy

Willow

Tara

Anya

Faith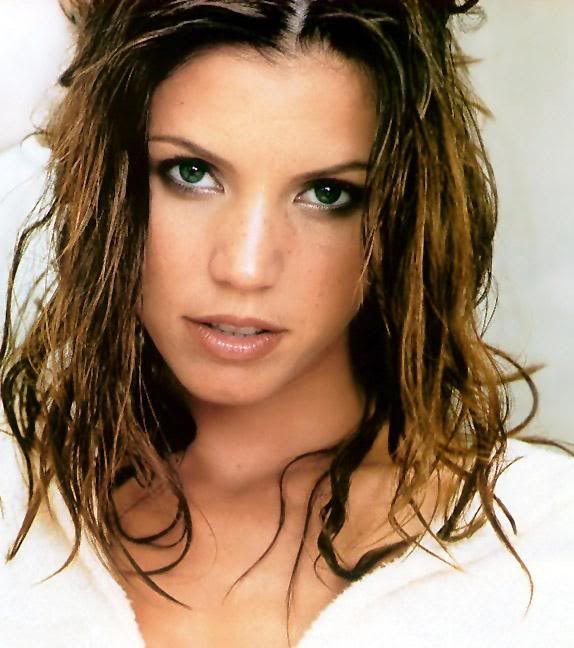 Cordy

Dawn
4. Breaking Conventions
Buffy was never afraid to shake things up. There are some characters who don't make it to the end, some change ups in the look and feel of the show, and a few episodes that throw the book of normal out the window. A few examples:
Hush (Season 4) The town is invaded by a group of creepy looking "gentlemen" who steal everyone's voices. The episode is mostly silent, forcing the characters to find ways to exchange information. (Nominated for an Emmy for Outstanding Writing for a Drama Series).
The Body (Season 5) Buffy discovers a body. The implications of which change everything once again. A painful, somber, and uncomfortable hour of great storytelling.
Once More With Feeling: See point 5.
Tabula Rasa (Season 6) This one is completely overshadowed by the giant awesome musical that precedes it (See point 5), but is fantastic in it's own right. The characters have their memories wiped by way of a spell, and spend most of the episode attempting to figure out who they are, and how they relate to one another. "We're both English, we must be father and son".
Conversations With Dead People (Season 7) The original part isn't that the characters are visited by the dead, who bring messages to them, the original part is that one of them pyschoanalyzes Buffy between rounds, and that we're left at the end unsure of what was real and what wasn't.
5. Once More With Feeling
This may very well be the strongest episode of episodic television yet. I realize that seems like a strong boast, but, seriously, this thing is amazing. Not only do we have an episode done as a musical (before this sort of thing was in fashion), but it's a great one. The plot involves a Demon being summoned who makes everyone break in to song and dance occasionally. As usual, it's self referential, and the plot device itself is discussed in the show. The songs run the gamut from okay to amazing, and the supporting cast steps up, due to strong vocal talents from specific actors. This makes for an interesting plot, as the songs carry the episode to its conclusion. Bonus points, as it's not even a stand alone. In fact, a MAJOR plot point for that season is brought up moments before the end.
On top of that, it's a funny episode as well. We have a great duet between Emma Caulfield and Nicholas Brendon, which both amuses and sets up a storyline which will play out over the year. Later we hear Anya (Caulfield) complaining about the fact that song was just a book number, and not a breakout hit.
Here's a very crappy looking you tube video of one of the early numbers. Note the essence of "lousy capture", note the odd "this is mirrored from the actual version"-ness. But mostly, enjoy the witty fun sing-y part.
If this episode alone doesn't give you enough faith in Joss Whedon and the show, you might just be too cynical to go on.
So there you have it, 5 reasons to go back and watch Buffy again, or maybe for the first time. Sci-Fi fans are constantly looking for a mythology to wrap themselves in, a show that lasts more than two seasons. Here it is. Seven seasons of goodness. Enjoy.
—————————————————–
If you have a show or film or book or band you'd like to make a case for, we'd love to hear from you. Read the rules below, and drop us a line.
The rules:
1) Give us 5 good reasons we should care, or watch, or listen etc. Make them compelling. Remember, you're trying to sell this to us, and our readers.
2) Send pictures along with the article. Admin_rock doesn't like to work harder than he has to, so be sure to send pics, or links to pics in the article.
Check out the previous installment(s) to see how it's done.