Posted by
Tbinns
on Mar 10th, 2010 in
Correctness
,
Music
|
0 comments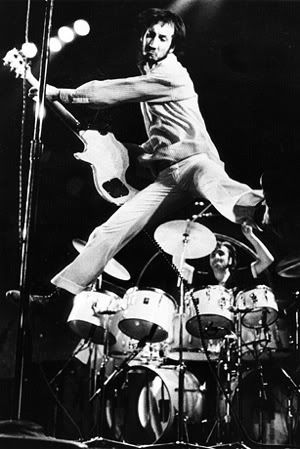 You know those mornings where you wake up and the sun is shining, the birds are singing, everyone walks with a spring in their step and a smile, and you would STILL punch a girl scout in the throat if she tried to sell you some cookies?
Some days you can't help it, no matter what the day is shaping up like, you are in a bad mood. You just want to scream at everyone, be belligerent to people, and call them idiots if they don't agree with every little thing you say. If you are not Bill O'Reilly, who makes a living out of being a complete and utter jack ass this is generally considered unacceptable behavior. So what can you do?
Well for me, there are certain songs that put me in a good mood almost instantly. They are songs that defy grumpiness, that create a small bubble of irresistible cheer. Granted, what you would choose to put on this list might be vastly different than mine. For instance, you may have noticed, with some derision, that there is almost nothing on my list after 1984. That's because I'm an old fart who is only a couple of years away from yelling at kids to get off his lawn. I should have growth charts on the wall to measure my pants creeping up. But that is another blog. Here then, is my list of songs that provide me with instant good modification. Feel free to add yours in the comment section.
Call me Al by Paul Simon.
Maybe it's the jaunty bass line, maybe it's the peppy horns, or maybe because the video may actually be the last time on record that Chevy Chase was funny. But whatever the reason, this one always gets a quick volume boost from me whenever it comes on the radio


Stepping Out by Joe Jackson
"You can dress in pink and blue just like a child
And in a yellow taxi turn to me and smile
We'll be there in just a while if you follow me"
How much fun does THAT sound like?


Spirit of Radio by Rush
"Begin the day with a friendly voice, a companion unobtrusive…"
As a Canadian nerd it is my sacred and sworn duty to be a die hard Rush junkie. That bursting guitar riff, with epic drum fills always makes me want to stand up and cheer, even if the song turned out to be painfully prophetic about which direction the music industry was going. AI picked this version because Neil Peart's rat tail amuses me. Also because I had this concert on Beta, and I watched it constantly. Good times.
Second hand news by Fleetwood Mac
There was a time when almost every guy wanted to lay Stevie Nicks down in the tall grass and let them do their stuff. This is the first track off of the legendary Rumors album, which was written at the peak of their discontent with each other, but yielded some great tracks.
Solsbury Hill by Peter Gabriel
Written shortly after his departure from Genesis, Peter Gabriel taps into the uncertainty, but also the exhilaration of being on his own for the first time, and stretching his creative wings.
Superstition
If you can listen to this song without moving some part of your body along with it, you have no soul, and should probably consult your nearest convenient non denominational spiritual advisor.
Revolution
The.
Beatles.
Kicking Ass.
And
Taking
Names.
Love it.
Won't Get Fooled Again by The Who
Before it become forever associated with David Caruso, (Urgh, by the way. Just urgh.) this song was the quintessential rock anthem. The video below is from the movie "The Kids are Alright," and it may well be everything I love about rock and roll in a nutshell.
ABC by The Jackson Five
I swear to you, this, on loudspeaker in all the world's trouble spots would bring about world peace in about ½ an hour.
Honarable Mentions and exceptions to the post 1980 rule….
Knights of Cydonia by Muse
NO ONES GONNA TAKE MEEEE AAAALIVE!!!!!
My wife threw me a surprise 40th birthday party that involved me having to rescue her from the zombies she allegedly created in her copious spare time, all of which were conveniently located at a paintball course that was just outside of town. This was blasting on the car stereo as we arrived to suit up and kick some Zombie ass.
Teddy Picker by The Arctic Monkeys

Who'd want to men of the people, when there's people like you?
Amen brother. Amen.