Dearest Correctness Peeps: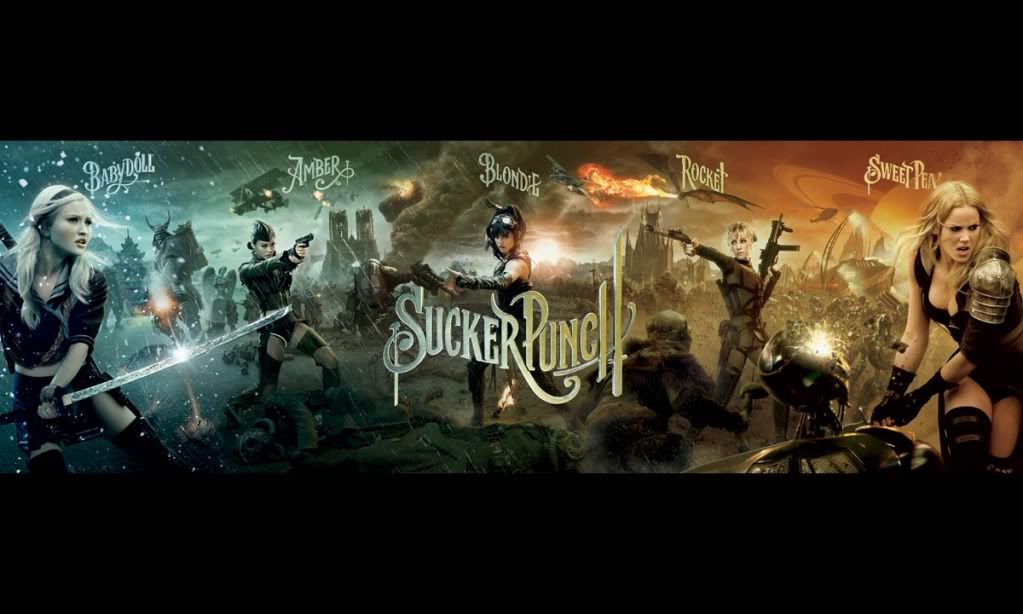 There have been some mixed reviews for Sucker Punch, and I would like to do what we do best here and tell the negative reviewers why they are so very, very wrong. So very wrong. I saw Sucker Punch recently (in IMAX, where it was delightfully large, and verging on too loud…) and I can assure you that it rocked my socks so so hard my socks became molecularly unstable and evaporated out of my shoes. That's some serious sock rock.  I don't know much about Brownian motion, but in order for my socks to be rocked completely off some serious energy would have to have been harnessed, and then directed at my chucks. I'm going to try and do this without spoilers, and just encourage y'all to get out of your basements and go see this film on the big screen before it disappears. Is this one of those positive reviews that I get paid for? AHAHAHAHAH, no, I just sincerely think people are missing some really impressive details in this film. I really liked it.
Critics say: The dialogue is weird in places.
Critics are so very wrong because:  This film uses a fantasy within a fantasy to show versions of the events in the real-world playing out through the mind of our adorable protagonist.  Are you with me? Okay, it's a meta thing within a meta thing within a question wrapped inside an enigma wrapped inside a delicious tortilla. WHAT NOBODY SEEMS TO HAVE NOTICED is that the dialogue in some cases, especially from the ultra creepy  Blue Jones, can be extracted from the fantasy sequence and it still makes sense in the "real" world. When you are watching the film, keep your ears open for the parts of the dialogue that can serve both levels of reality.  I really like that by attending to which dialogue associates most closely to the "real" events, you can extrapolate what is going on outside of the layers of fantasy. Discussing more means spoilers, dudes.
Critics say: Pretty girls in visually stunning locations.
Critics are so very wrong because: No human likes to see films with half decayed fat people in dental office waiting rooms, unless it is a zombie movie, and Sucker Punch even has zombies for those naysayers- clockwork steam-driven nazi zombies!  Whycome  anyone is concerned about the film being visually stunning? It is! There was one shot (and it wasn't an action sequence, watch for it in the opening 15 minutes) which was so beautiful I literally got chills.  The sets, the art direction, the costuming, the direction in general all made for an aesthetically stunning film. Why aren't you in the theatre yet? Oh, and how can anyone complain about pretty girls who kick ass? I fell in love about 9 times in the theatre, and I am a genderless, asexual sack of cellular material that only vaguely approximates manliness.
Critics say: Heavyhanded metaphor.
Critics were gargling their own man-sacks because: Some of the metaphors aren't as much metaphors as they are functioning symbols which relay the story as it occurs outside both layers of fantasy in the "real" world. I don't want to get all semiotic on you, but if the bomb on the train is a knife, and the knife is also actually a knife, what do you call it? Important objects have metaphorical forms, literal forms within a fantasy, and literal forms within "reality"…  Ask me about the bus driver once you've seen it, and what questions that sequence raises about the "metaphors".
Critics say: Underdeveloped characters.
Why I am forced to question their manhood this time instead of my own: Does anyone ever leave a film and say "I demand more exposition!"? No, they do not, unless they are assholes.  There is the barest minimum of expository nonsense in this film, and the story gets told. You find out exactly enough about the main characters.  The opening sequence introduces Baby Doll, how she gets screwed over, and gets you right into the main narrative of the film in a concise, and may I say emotionally difficult, 5 minutes. All this over a song- I hesitate to call it a montage, because it really isn't. Oh, and speaking of the soundtrack…
Critics say: Downtempo covers, heard it before.
Why they are a bunch of drooling goats on bikes: There are some really well crafted downtempo covers on the soundtrack, yes, but this is the most coherent film soundtrack I have ever heard.  EVER. Honestly. The genius of the soundtrack is in the detail- There are musical themes which tie one song to another, referencing each other, calling one back as it anticipates the next, it's wicked.  Listen hard when you are in the theatre, these aren't just cross fades, there are ambient and musical elements from many of the songs in many others. In addition, whoever found that additional vocal material on the remix of "Army of Me" that I have not yet heard elsewhere deserves some kudos.
Anywaysies, you guys, I'm not going to say too much more, but go see this film. Along with the things I mentioned, this is an engaging film with some wonderful moments, some challenging themes, and lot of fun to watch. One line even made me get kind of misty right at the end there… It's worth your $15 bucks, and if you don't enjoy it you should just complain about the projector bulb, and scratches on the print, and they will refund you. See you at the theatre on Sunday. IMAX!
Sincerely,
RobbieRobTown