The Avengers kicked butt at the box office. Admin_Rock offers up his review of the film. (Some Spoilers, nothing major)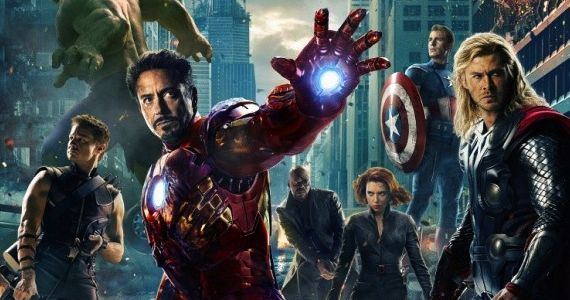 Admin_Rock here. I had the pleasure of joining RobbieRobTown to see The Avengers on Friday night, and then again today with Mrs. Admin_Rock and Admin_Jr. My first piece of advise is that this film, while loaded with action and humor, is best the first time.
Don't get me wrong, I'm not slagging the film in any way, just warning you that some of the cracks and wrinkles are a bit more obvious once you're not basking in the glow of the new and shiny. And shiny it is. We have action galore, wonderfully crafted chase scenes, and great individual match-ups. We have our heroes squaring off in a variety of combinations, and (no spoiler) Assembling.
Joss Whedon has pretty much cemented his reputation as a brilliant writer, and his direction leaves little doubt that he'll be mentioned in the same breath as Spielberg and Lucas. The browncoat in me secretly wishes he'd re-0release Serenity with a "from the Writer/Director of The Avengers" tag line. Should be worth a couple hundred million easy. The movie clocks in at over 2 hours, but doesn't feel overly long. The plot hits all the beats, and holds up, providing we don't examine things too closely.
With a huge number of cast members to showcase, Whedon gets to work, and does an admirable job of it. We meet all the team members, and each has a role and story to tell. Captain America gets a bit of short shrift here, but I wouldn't be surprised if some of his story is in the reported 30 minutes of deleted scenes. (I'll wager there's more to Harry Dean Stanton's character there as well).
All of the leads give a good performance, nothing cringeworthy here, though sadly Samuel L. Jackson seems a bit wooden, and his dialogue doesn't quite work. Mark Ruffalo is a standout on the other end of the spectrum, bringing an older, quieter Banner to the table. Robert Downey Jr. is, as always, the life of the party as Tony Stark.
The film works, it really does. We move through it, checking in with our heroes, watching them come together to fight off the evil alien hordes. We never dwell too long in a scene, and are given time to catch our breath before the next action sequence begin. Pound for pound, I'd day the movie as well put together as any you'll see.
If I have to cast any negative shadows (and I do, it's dull reading all sunshine, right?), I'd offer only these few minor quibbles:
I'm guessing some of those deleted scenes will offer up an important tonal shift for Bruce Banner, as otherwise, he goes from totally out of control to just fine in a hurry. Also, we never really feel like our heroes are in danger. There's a brief taste for the Black Widow, but a threat made isn't carried out, and is pretty much shelved. So even when things looks darkest, we don't worry for them. If Iron Man had say, not completed his final mission, and was M.I.A., that would have been interesting.
Even more minor: Most of the characters are not super interesting. On their own, the majority of the Avengers are boring as hell. Which is why the movie works, because they're rarely on their own. This movie is 50 times more interesting than the comic book ever were.
Ok, so, in conclusion, Joss is pretty much God, the film is brilliant, go see it, but only once, and enjoy!