Here at The Correctness, we are getting a lot of questions about time travel. Oh, and by "a lot" I mean "none" but the sentence "Here at The Correctness we get none questions about time travel" is not grammatically correct.  Nonetheless, we have commissioned an ongoing series of articles addressing your FAQs about time travel. This first one is from our "Intermediate Time Travel Forum", so this is for those with a basic working knowledge of some of the practical techniques for travelling through time.
Be sure to stay tuned for upcoming posts on the more basic elements and fundamentals of time travel.
Q: A popular technique for time travel that I often hear discussed is "folding time". How does folding time help to travel through time?
A: Well, it's a simple as this: Imagine time is this piece of paper (Rob holds a piece of paper). Now imagine we could do this (Rob bends the paper to touch in a couple of places) so we could pass from one point in time to another.  Well time travel is not at all like that.  It's more like if I did that paper bending thing, except with time instead of paper. Paper is more like paper than it is like time, it's just serving as a physical analogue in this case. Like, I guess you could create similes about how paper is like time, but why bother?
Q: Okay, so how do I fold time?
A: Carefully, or it will wrinkle.
Q: I mean practically:
A: One can fold time using the following technique: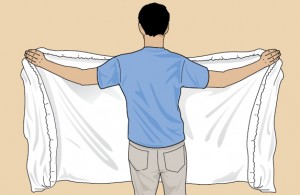 Step 1: Gather up time on your hands and hold it loosely, but above the floor. Don't let time get dusty. You could save time in a bottle to prevent that.
Step 2: Tuck the fitted corners of time into each other. Time is meant to conform to the shape of your box spring, so time passes every night at the same rate as your inevitable aging. You can lay time flat on the bed to get started of you like. This is the American method. Hanging on in quiet desperation is the English way, the time is gone, the song is over, thought I'd something more to say.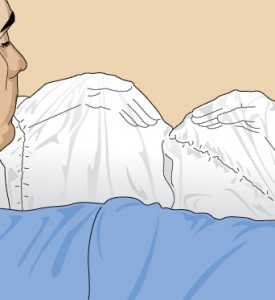 Step 3.  Get your hands inside of time and kind of wiggle it so that the gravity wells align. Or, use any household black holes you may have created to do this (See: Large Hadron Collider  http://www.thecorrectness.com/correctness/the-large-hadron-collider-and-your-certain-doom/ ).  A clothespin is simply not going to do the trick, you really need to get in there with your hands and shift time around until all the wormholes are gone.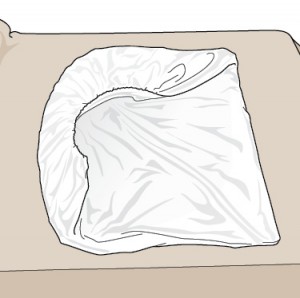 Step 4: You can see from the illustration above that you should now be able to lay time flat and time should be roughly in quarters. Now, please keep in mind that this is a three dimensional illustration of a four dimensional process, at least, if not more than four, so it might look a lot like a sheet, but also it might look like a swirling psychedelic hole into nothingness that swallows your soul to look upon. It is useful to wear your safety goggles, and have a strong faith in whatever God you choose to believe in. This should help minimize the psychic shock. I mean, yes, your life could still be torn utterly asunder by some rogue-wave traumatic event, but you are the one who is choosing to fold time. I mean, you could have just left well enough alone, but here you are tinkering with the essential fabric of your existence, and for what? Higher thread count time?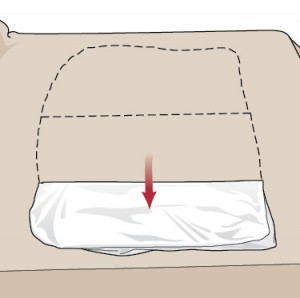 Step 5: Take the quartered sections of time, and fold them into thirds. You will now have 21 layers of time- or, in four dimensions, you started with 16 layers of time, and you now have 48. The layers of time are a bit like philo pastry, except that they are intangible strands of the stuff of the universe, and not really delicious.  One good thing about that is time isn't going to be a gluten bomb to your colon. You can digest time, and you will find it high in fibre. This is due to Quantum String (Bean )Theory.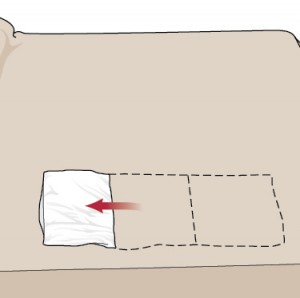 Step 6. Take the last strip of time,  and fold it again into thirds. You will now have either 63 layers of time, or 144, depending on your perceptual ability and skill at mathematical topology. Since we are working in the fourth dimension, a perfect square like a gross, or 144, is just the right amount of time to travel through, though it wouldn't appear as a square, it would appear as maddening cauldron of foreverness. Forever. 
It is imperative that you remain quiet if you can, time can never mend the careless whispers of a good friend.
Keep in mind folding time is just one possible technique, and frankly, not our favourite here at The Correctness. Others will be explored soon, and we hope that you join us!