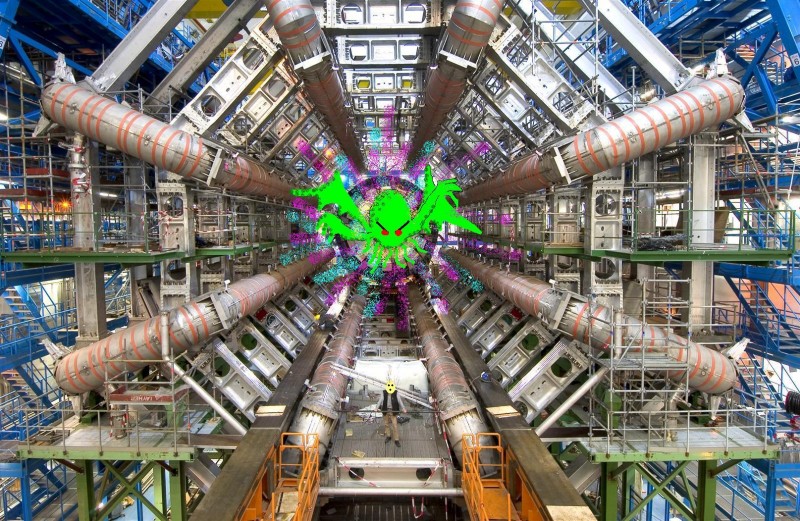 ConCERNed? Ha! Seriously, Large Hadrons, and the End of the World.
We here at The Correctness are not physicists. OH! Wait- No, I looked around again, and we are not physicists, but what we ARE for certain is correct, and we'd like to offer some advice on your impending doom. So, regarding your horrifying death: When CERN finally fixes the Large Hadron Collider in November, we can guarantee you that the first large hadron collision will set in motion the destruction of all life on earth, most probably by terrifying creatures from dimensions beyond, but possibly, and somewhat optimistically, just from a massive gravitational collapse that will swallow our planet. Let's explain a bit about the LHC.
Understanding the LHC, and Subaru AWD:
Again, we're not physicists since "the incident", but the elementary basics of the LHC can be easily understood. A particle accelerator, which is what the LHC is- in fact, it's a humungo one-  is tasked with smashing things into other things so we can find out what's inside of things.  I repeat. This multi-billion dollar scientific device, requiring the cooperation of many nations to build, and the finest minds in particle physics and engineering,  is a machine which smashes things into other things. Specifically, its job is to make with the smashing of tiny subatomic particles into each other to see what's inside of them, and create images of the microscopic aftermath.
Now, if you're like me, and the particle collider process sounds akin to smashing two Subarus into each other, head on, and counting the flying parts to see how the all-wheel-drive works, then you , like me, aren't that far off the mark.  This highly scientific sounding process takes high speed images of the shit that flies off of other shit when you wreck it hard- like, speed of light hard. That's one hard wreckin'. Like, as hard as I would wreck Ellen Page if she wouldn't be outrageously offended at the suggestion, and especially if I wasn't so scathingly asexual lately. If you wrecked your Subaru at the speed of light- wait, I'm going to stop this article and do some high school physics calculations here- let's say you wrecked your Subaru at the speed of light by smashing it into, say, a populated area, the resulting impact would be , carry the one- um- AWESOMELY HUGE IN A MICHAEL BAY KIND OF WAY. To take it back to Star Wars (and you know we like to), it would have been way easier for the Death Star to obliterate Alderaan by lobbing a couple of Subarus at them out of high orbit rather than charging up that big old laser (see: Item 7 of TBinns article http://www.thecorrectness.com/movies/25-things-wrong-with-the-star-wars-universe/ ) In fact, tossing a surplus star destroyer at a planet would be extremely effective at high speeds too, and this is technology that only requires you to have a nearby sun or planet to fling shit around. What I'm getting at is when you smash things fast, they go smashier.  The LHC smashes things the very smashiest. Guess I lost my chance with Ellen Page, huh.  I have a friend who saw Ellen Page in a video store, and she was kind enough to warn them off on a film they were considering renting.
Now, we will be returning to the topic of your inevitable tortuous death momentarily, but if you will allow some further clarification…
Two things:  One: I have been informed that you don't have to worry about the operation or results of the LHC, because scientists are people we can implicitly trust because they are never, ever wrong. We defy any reader to give us historical evidence of science ever being incorrect about anything, for any reason.  No, wait,  actually, no, I can think of a couple of minor ones.  Actually, some major ones.
Two: Fortunately for all of us, the scientists at CERN's LHC are talking about smashing very tiny protons into one another, or on special days, lead nuclei. So that's nice small stuff to smash, not Subarus. One brief pause here- Relative to size, on the proton/lead nuclei front, this is something I find funny. Imagine a baseball. Now imagine, I know it's not used for baseball or football anymore, the Astrodome. Now, on Thursdays, we throw baseballs at each other. And on Fridays, just for giggles, we throw Astrodomes at each other. That's the size difference between a proton and a huge old lead atom- and even just the lead nucleus is like each of us hurling 204 baseballs at each  other in two big 204 baseball lumps. That's a lot of damn baseballs to catch square in the crotch, because that's where you were aiming,  wasn't it, Greg.
The Goal: Gathering Sand on a Beach
In any case, what can come of smashing this tiny stuff? Well, it's back to school for 30 seconds. You were 8, and the smallest things in the world were molecules. Then, you were 12, and the smallest thing in the world was atoms, which made up the molecules. Then, you were in high school, and you were masturbating a lot, but also, the smallest thing in the world was the protons, neutrons and electrons that made up atoms.  Then, you were smoking up at university with your physics buddies, and they promised you that the subatomic particles are made up of groups of even smaller particles, and that was the smallest thing. CERN is trying to tally up these smallest things by making them go smashy. We have built the Lego Star Wars kits, we have engaged them in battle, we have tired of them, we have hurled them into each other in Dave's basement, we are gathering and tallying the pieces by colour.  Some of the pieces have flown behind the shelf, and one of them nicked his sweet TV screen.
The Probable Outcome:
Let's leave behind the science for a moment, and get practical. Whoah,  that was an ironic statement. Anyways, let's do that thing I just said. If you think nicking Dave's TV doesn't sound like so big of a problem, it is probably because you are insensitive, and you can't afford to replace his TV.  But when the Large Hadron Collider hits Dave's TV, it TEARS A HOLE IN THE FABRIC OF SPACE AND CAUSES MICROSCOPIC STABLE BLACK HOLES TO OPEN UP, THROUGH WHICH WILL COME THE GREAT OLD ONES. The speeds of these collisions are so fast, and so intense, and so energetic, and cause such dramatic funkification of spacetime that most assuredly we will awaken the Elder Gods who slumber in a parallel universe, needing only the faintest crack in our reality to slip through and strangle us all with their hideous tentacles.
Inevitable Monster Movie:
Hasn't anyone read Steven King's "The Mist"? Or seen the film? Or really any of the other books which refer to "the Mist" including the entire Dark Tower series?  Or read Frankenstein, or know what Frankenstein is? REPEAT AFTER ME: When we mess with science shit, we always, always, always end up battling creatures we can't control. We have learned this lesson time and again, from Jurassic park, from Event Horizon, from, uh, Spongebob Squarepants I guess.
So, let's say the tiny black holes don't crack open interdimensional gates- which, we assure you as non physicists, they absolutely will-  then maybe the tiny black holes just continue to grow and grow and grow until their immense and unstoppable gravitational pull sucks you in and you die at the event horizon fatter than you've ever been- well, more massive- anyways- well, the same mass but feeling bloaty-  you'll die, and you will feel seriously ugly.
AT BEST, there is the possibility of the production of a "strangelet".  A strangelet is two things: One, it is obviously smaller and cuter than a strange, because it is called a strangelet, just as we know that a couplet , in poetry, is a small, cute couple, just like Ellen Page and I would be. Two, it is a type of  subatomic particle which, if it did hypothetically interact with regular matter, could make all normal matter into "strange matter" in a weird chain reaction.  Now, nobody can explain to us how that might change things, but it sound DC comics enough to us, so it seems okay.
But to get down to brass tacks (a phrase for which the etymology eludes me completely) the MOST LIKELY situation is that once microscopic black holes create a gateway into the hidden realm of unimaginable horrors that will drive you mad to even behold with the faintest flicker of one glance, that's when shit gets all doomy. Scientists at CERN have conducted two, count 'em, two safety reviews, and they are confident, as the scientists who are in charge of the multi-billion dollar operation that would be a colossal waste of money if it failed, that none of these things will happen. I think we can all agree that when scientists who are beholden to their international investors to produce results on massively expensive experimental devices tell us something, it's worth taking their assurances with several grains of salt. An ASTRODOME of salt, which could be then hurled at high speed towards another astrodome of salt, producing salty astrodome particles which can be counted and categorized, finally allowing us to know how effective the Astro's coaching staff was in 70's. Anyways, prepare to be eaten , not just eaten but DEVOURED by the Cthulhu.
Spotting the Cthulhu:
You may be interested as to how to spot the Cthulhu as they pass through the colourful interdimensional vortex from the place we would understand as a "city" of R'leyh. First, some basics on Cthulhu:
- They are the ones that when you look at them, make you go completely insane.
- They have tentacles on their awful, repulsive, squid heads, and are drooling hate like a retarded baby camel drools drool.
- They desire not only to consume your flesh, but your soul, so they have special teeth to chew up your soul.
-Dudes will be chanting the following: Ph'nglui mglw'nafh C'thulhu R'lyeh wgah'nagl fhtagn,
- You feel insane, because you looked at one.
And that's about it. Once those things start coming through and devouring your very life force and tormenting your fleeing friends with horrors they cannot fathom or comprehend, it's Doomsville. No amount of knowledge about the so called subatomic particle zoo will protect you from the grasp of a slick spiky tentacle and the maw of a giant creature with breath that reeks of decay and infinity, if indeed the nameless horror has breath to breathe!
Doom 2012 is right on schedule, thanks again Science for nothing. Fuck you guys.