The Correctness on Sports:
Contrary to popular belief, we here at The Correctness are huge sports fans. Because of our unerring expertise, we are frequently bombarded with sports related questions. How does one pole vault one's shotput? Is Hachidan Kiritsu illegal in Anbo Jitsu, just as Will Riker claims it is? What are the consequences of a ground rule double in quidditch?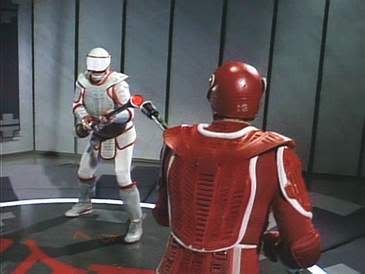 Sports sure can seem complicated for the average nerd, but we have a primer here that will allow you to discuss a few sports as necessary, primarily to impress male co-workers, especially single male ones who are not otherwise occupied with satisfying sexual relationships. Be forewarned, if you are a female nerd, and you make an attempt to understand sporting events, you may find your elevated sexual status unnerving. Furthermore, you may also find your nerdy male friends looking at you quite a bit more wistfully than usual when games night rolls around. We have compiled a list of several popular sporting events, and provided the relevant rules, scoring procedures, and penalties.
1. Punchy Smacky:
Punchy Smacky is a one on one gladiatorial event in which two pugilists exchange blows (our research indicates one fighter is typically comically out of scale). Each participant in Punchy Smacky has his fists enclosed in comical red sacks which serve a twofold purpose: First, The red hand-sacks are employed to slightly reduce the impact of each blow sustained by the athletes. Second, the hand-sacks can be tracked with motion tracking software, simplifying the task of compositing in a giant lizard or giant werewolf instead of normal humans.
A competitor has won the match when the other competitor is permanently brain injured, and obliged to sell products on television wholly unrelated to their area of athletic expertise.
Some terminology which may be useful for you:
KO: A "Kick Out" kicks a competitor out of the match.
TKO: A "Twilight Kick Out" occurs when the giant werewolf competitor faces off against a giant vampire instead of a giant lizard.
2. Angry Cuddles:
This is another event popular with individuals who own Tapout apparel and skidoo jackets. Angry Cuddles once again pits two meaty fellows against each other. The objective of Angry Cuddles is to make as much flesh-to-flesh contact as is allowed by the referee. Once extensive cuddling has commenced , the referee with rush over to the two entangled opponents, and measure their physical proximity. Once maximum cuddling has been achieved, the referee separates the two opponents, to prevent a more permanent pair bond. A winner is declared when one hapless competitor has fallen in love, and is emotionally spurned by the victor.
It is considered in poor taste for the victor to flaunt his emotional win, and excessive bravado from the champion is poor sportsmanship. The classiest competitors in this sport complete each match with a thorough explanation of what they are going through right now that makes continued cuddling impossible.
Handy Insider phrase: "That was a good takedown. That fellow sure likes to go down when the other fellow takes him."
3. Nap:
Nap is a very traditional sport. It is typically played in warm climates throughout the year, but is enjoyed most by viewers living in colder climates during in the spring and autumn. In nap, a series of athletes wearing white stroll around large manicured lawns, on which they are in pursuit of a pearlescent spheroid. The players employ metallic sticks to disturb the inertia of the spheroid. Various obstacles prevent the deposit of the of the spheroid inside of a circular hopper found beneath a flag. It should be pointed out that the flag represents no national importance, it simply indicates the position of the ball hopper. The flag is not captured or kept by the participants, and "paintball rules" are frowned upon.
While the game-play of Nap may seem complex, the entire spectacle is intended to lull you to a gentle sleep, particularly for those whose cold climate homes are far from the greenery on the game surface. Announcers speak in hushed tones in a timbre specifically intended to encourage delta-wave patterns in the viewer's mind. The obstacles confronting the players are neither alarming nor complex, and are better understood less as obstacles and more as nice beaches and idealized fishing ponds. Since the entire sport of Nap is essentially a narrated walk around a private park, the sport cannot be underestimated as a valuable mental health service.
Some terminology:
A Long Par Five: A verbal construct which has a powerful sedative effect.
In The Rough: Visually, this segment of the game will have more trees, and there will be more enjoyable bird noises.
Tiger Woods: A traditional clown character whose misadventures off screen add some levity to the match. You may find him distracting.