Posted by
RobbieRobTown
on Jul 8th, 2010 in
Correctness
|
5 comments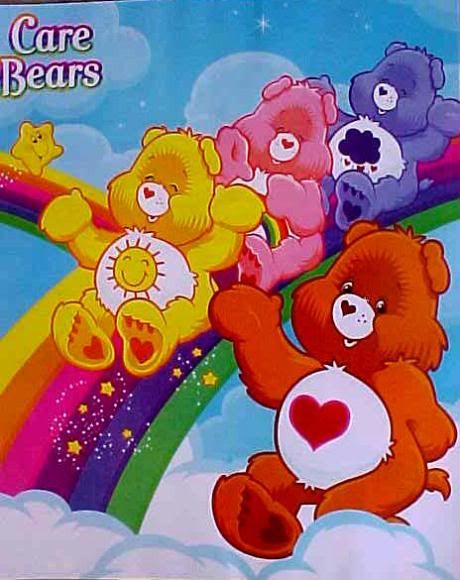 You have been asking, you have been waiting, you are a fictional construct I am using to build tension. Finally, what "you" wanted is here: Another correctness.com Awesome Undercard event to tide you over until the next full on smackdown series.
In this match-up, it's every bear for himself- Or, every bear for himself and his or her family, cousins, distant relations, or loosely knit community! And if that wasn't enough, they are facing off against me, and my unfathomable ennui! That's right, it's Care Bears vs. Gummi Bears vs. Berenstain bears, vs. My Increasing Disillusionment.
First up, it's the Care Bears. Initially created by the good people at American Greetings, the Care Bears were transformed into a Saturday morning cartoon- back when that used to mean something, you damn ungrateful kids. TBinns and I were just talking about this: Do you remember when they stopped having evangelists and started having cartoons on Sunday mornings too? That is, assuming you didn't live in the southern US, because that hasn't changed there. Anyhow, the Care Bears were indeed made into a highly profitable cartoon marketing vehicle, no doubt because of the involvement of Haliburton.
The Care Bears shoot ray guns of weaponized emotion out of their chests, much like Haliburton, except Haliburton rapes wildlife with weaponized oil-cocks. Many people have asked me (and by "many" I mean "no one" has): "Just what is the effect of being hit with a Care Bear Stare? And furthermore, why do they stare out of their bellies?". Those are both good questions, hypothetical non-existent questioner.
The Care Bear Stare would blast you in the heart, or nuts- whichever of the two you feel your feelings in- and make you feel care and joy. To clarify, this is in fact different from an SSRI, which makes you feel nothing at all, in a really pleasant way. Tenderheart be damned, pass the Zoloft.
To answer your second question, Care Bears stare out of their chest because all Care Bears suffer from a genetic condition called Thoracic Astigmatism. I will say nothing further on the matter.
Our next competitors are the Gummi Bears. You might know them best for bouncing here and there and everywhere, or perhaps for their high adventure that's beyond compare. Of any of the Saturday morning cartoons, the Gummi Bears had the most pulp science fiction back-story. They live in a post apocalyptic world where a once great Gummi civilization, now long since decadent, hides underground awaiting discovery. If you like the Lovecraftian tone of that weirdness, then you'll love where the story gets all Phillip K Dyck: The Gummi bears are all addicted to Gummi Juice , which gives them the power to bounce and be energetic. They have to "cook" gummi juice carefully, or it explodes. You know who else wants Gummi Juice? Everyone, including, get ready for the Tolkien part, the ogres and their human overlord named Duke Igthorn. To recap: Meth addled descendants of an ancient, decadent, partially subterranean society evade capture by meth addicted ogres, and their ogre-prison-camp-running human master. "High" adventure, indeed. This was all at Disney during the Michael Eisner years, so you just know somebody pitched him this show while he was mid-coke snort off the partially exposed inner thigh of a hot young actress dressed as Tinkerbell.
I would like to stop here for a moment and give us all some time to think about doing anything to a hot young actress dressed as Tinkerbell, on any of the key Disney female leads rendered coquettish through the eyes of consenting adulthood. We return now to our regularly scheduled thingy.
Next up are the Berenstain Bears. I have no problem with the Berenstain Bears. Their stories were innocuous, wholesome, charming and demographically appropriate. What to do about a loose tooth, and such the like. With the possible exception of the home-maker mother reinforcing stereotypical gender roles, these bears are the least cloying and most watchable of the whole group. NB:The dad often carries a pitchfork, if I am not mistaken.
Finally there is me.
I am a force of nature. I am as terrible as the sea, and as pissy as the rain. There are the Bad News Bears, and then there is me. NB: I often carry a pointy grudge.
How This, Being the Event, Would Go Down:
I see the Gummi bears coming out strong, all jacked-up on their Gummi Juice. I wouldn't put it past those guys to berserk/kamikaze the whole fight, so you would definitely want to make sure they didn't get their hands on any swords or airplanes. I suppose they might stumble across a pointy stick in their Gummi Forest, but fear not, as anyone who has ever walked past a meth-head knows that a light breeze will push them over.
I would probably strike early at the Care Bears. Accusing Tenderheart of being crass and commercial, I would read him an essay on the irony inherent in capitalizing on the concept of empathy for corporate gains. Not a penny to charity, I would point out, and poor children couldn't afford to give care bear merchandise to indicate their own sincere level of care. Tenderheart, and several other care Bears would probably shit oil, which Haliburton would use to rub down the Berenstain bears, and any baby animals they could find. Cheer Bear would spin some positive PR for both Haliburton and BP, and I would hold her down and shave the word "Motherfucker" into her pink, fuzzy ass. No doubt Cheer Bear would be leaking quite a bit more oil out of her ass than initially predicted. Consequently, I would use the Gummi Bears that I could catch (probably while they are low and asking for change) and forcibly stopper the anuses of the Care Bears with the Gummi Bears emaciated walking corpses.
The Gummy Bears that were still not being used to stem the oily flow from the Care Bear leak would be bouncing aggressively. If Papa Berenstain had not been completely immobilized by ImMobil Oil (TM), he would likely be puncturing the Gummi Bears with his pitchfork.
At some point, I would be distracted by a hot young actress dressed as Tinkerbell. Meanwhile, Tenderheart and one of the other Care Bears, (It doesn't matter which one, the one with the cloud on his chest maybe, what's his name, you know, Cunty Bear or whatever) would team up and hit me with a Care Bear Stare. Now normally, this would only irk me, but suddenly overwhelmed by caring, I would realize that the young actress I had been leering at would have been coerced into the awkward position of garnering attention through her sexuality to try to get acting work. Suddenly overwhelmed by a moral distaste for the entertainment business (about which I am already conflicted), I would begin to worry that my own desires were exploitative, and I would lose my ability to get an erection forever. Blow after dick-limpening blow (The first time in print history in which the words "blow" and "dick limepening" have been used in the same sentence) of Care Bear Stare would pummel me in the junk. If you have never had your junk pummeled by caring, it feels like a bit like being clubbed to death BY an adorable baby seal, who is holding a club made of baby sealskin and rainbows.
Having turned the tide in their favour, but exhausted after jizzing sunshine and sparkles out of their nipples (Nipples? What chest-orifice emits a Care Bear Stare?), The Care bears would collapse, breathing heavily, and mumbling apologies for finishing so quickly. Papa Berenstain would have polished off the last of the Gummi bears, whose high could not possibly have lasted so long into the fight.
This is when I would strike my deathblow ("Strike a deathblow" also not arousing despite containing the word blow.) to the Care Bears. IN their enthusiasm, they could not possibly have foreseen that making me care would depress me even more. I would sigh heavily, and then sigh some more. "Without even the basest of my animal emotions left to motivate me, what is the point of living?" I would say. The Care Bears are not built to cope with existential crises, and they would gradually die of broken hearts, or possibly AIDS.
Papa Berenstain and I would then take some time away from our lives, and try to find ourselves getting our Yoga teaching certificates in India.
Winner: Haliburton
Loser: Tinkerbell