Posted by
Tbinns
on Jul 9th, 2010 in
Correctness
|
13 comments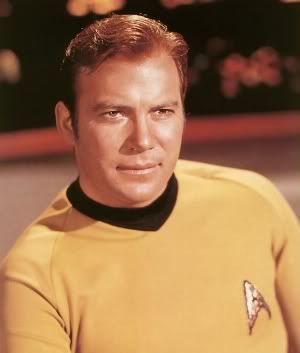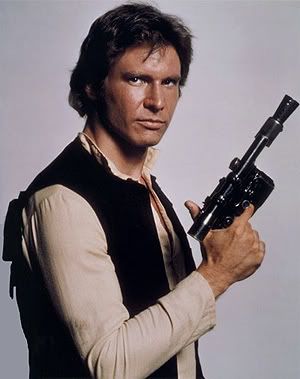 My nephew, Brendon is soon to become a father. He just bought his first house, and is thinking of applying his trade to his own business. When faced with the huge responsibilities of adulthood, one tends to turn thoughtful…introspective even. And then, you start asking the big questions. questions like…
Hey Uncle Tony Ummm…. Had a question which I am sure nerds have debated for for at least 25 years. Who would win in a battle Han Solo or Captain Kirk? I wanted to ask the vast knowledge of the Correctness but I dunno if there is a question section. Now if in question the Spock Kirk duel music is playing, no crowd, just a rancor to kill the loser.
Bren, I want you to know that you can always turn to me for advice in vital matters such as these.
The answer is: It depends.
If it's a straight up fist fight? Well, I'd give the edge to Kirk. Who can withstand the might of the Hands Clasped Chop or the Awkward Drop Kick?
Gun Fight? Solo. Solo is a cowboy, you just aren't going to outdraw him. Kirk would hit the ground before he uttered the phrase "Set to stun"
Ship to ship? Well there is no debating that The Enterprise is faster and outguns the Falcon massively. BUT The Falcon is WAY more maneuverable, I don't think anyone would be able to get a lock on him. and if it's a pilot fight between Solo and Sulu? Put your money on the guy who has out run Imperial Star Destroyers. Not the local bulk cruisers mind you, I'm talking about the big Corellian ships now.
Any tangle with Solo in his element is going to end with Kirk screaming "SOLOOOOOOOO!!!!" into his communicator and having it echo endlessly into space.
So if we do the math, that's 2 out of 3 for Solo, so he is the Winner. But let us take this before the Correctness Council of the Wise before we raise anybody's arm here.
Gentlemen?
DAVE: I can weigh in here, but it won't be popular, or pleasing. Here it is straight up: I fucking HATE William Shatner. I don't think he's awesome, or clever, or funny in any way. ANY. WAY. Never liked him, never will. Calling him "The Shat" just makes be think of the past tense of pooping, which is pretty close to what his acting is. And don't even get me started on his singing or directing, the past tense of which would be "The Vomat". I guess what i'm trying to say here is "I fucking HATE William Shatner".
The Original Star Trek is dear to many, but I suspect it's mostly that kind of nostalgia that makes people think the Transformers were EVER good, or that an A-Team remake was in any way necessary. Really, it's a pretty dull show, very dated (not its fault), and hard to swallow.
All of this makes it difficult for me to give Captain Kirk any credit. He's a bit of a buffoon. He makes grand speeches, and waves his hands around a lot, and occasionally karate chops someone. Also, The Federation is the biggest bunch of goody two shoes going, about as incompetent as it gets. Palpatine could probably have just told them, "I'm taking over", and it's game over.
Han Solo on the other hand, has the whole Harrison Ford thing going for him. And Han has a striking resemblance to Indiana Jones, whom I admire greatly. And Han kicks a lot of ass.
No question, Han Solo in a cakewalk. Also, Han Solo as winner of said fight.
ROB:
I, unlike my associate Dave, LOVE William Shatner.  I love William Shatner in that same pseudo-sexual way that many men love James Bond in. I have read the Tek-War novels, I own a CD copy of "Has Been" and find his duet with Henry Rollins to be both funny and cool. But we aren't talking about William Shatner, we are talking about James Tiberius Motherfucking Kirk.
James T. Kirk is the Batman of Star Trek. In fact, a fight between Batman and Kirk would be totally rad, let's do that next week. New Smackdown Proposal: Anybody sacred versus anybody sacred. You will lose your shit we we do Santa Claus versus the Pope.
While the Federation is indeed a bureaucratic yawn, Jim Kirk is a troublemaker. Kirk has disobeyed the prime directive so many times, they might as well call it the sub-prime directive (Also acceptable punchline: The Second Derivative Directive).
But let's get down to the metallic bulletin board anchors: If  your question Brendon, was "Who scores with hotter ladies", then the answer is an emphatic "Jim Kirk". There are websites dedicated to the hottest babes on Star Trek, and the hottest generally speaking have all been told the meaning of "Love" by our own Iowa farm boy and space jockey, Jimmy Kirk.
You, Brendon, did not ask that. You asked "Who would win in a battle Han Solo or Captain Kirk?" and a fine question that is. I assume you did not mean a sexy battle, because no number of Leias-in-gold-bikinis is enough to counter the immense volume of hot space tail that Kirk has tagged.
I love Han Solo too, though I never wanted to be him when I was a kid. I wanted to be Luke, because I wanted the force. Nonetheless, Han is pretty rad dude, and he says all the coolest lines with WAY more cool than Shatner could ever muster.
Han is by far the snappier dresser, and has a cooler collection of friends than Kirk. The number of times I hid in the closet to escape capture by the Empire as a kid should say something- about the Millennium Falcon and how cool it is, not about me being closeted, which is a rumour I don't need further help with getting going…
Determiners: Han didn't shoot first, Greedo never shot. Kirk beat the Kobayashi Maru. I haven't had sex in nearly 2 years.
I love Star Wars more than I love my family, but my money is on Kirk.