Posted by
admin_rock
on Mar 10th, 2010 in
Advice
,
Correctness
|
0 comments
I recently spent a weekend at the West Edmonton Mall, home of various lemurs, waterslides, and aging amusement park rides. While each of those things is worthy of much attention, the thing that was consistently evident was this:
Men's fashion is in a dire state of affairs. I'm talking worse than the 70's. Worse than the 80's. Makes the flannel of the 90's seem like a 3 piece suit. The ratio of awfulness was at least 4 out of 5.
What are we talking about? A fucking awful combination of Affliction, Tap-out, and Ed Hardy. It was hard to find a shirt without some nonsense words written in Old English script, worn by someone who couldn't read it even if it was written in block letters.
Is this what we've come to? We all desire to look like Wrestling characters? We choose to exert manliness not by hitting the gym, but by buying $100 t-shirts? Not only $100 shirts, but the ugliest fucking shirts possible. I mean, look at this shit!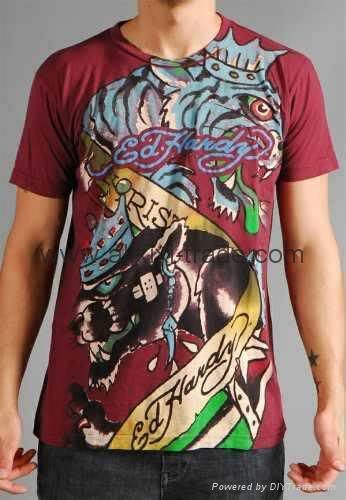 If you gave me that shirt for free, the only time I'd wear it was for that day where I stain the fence.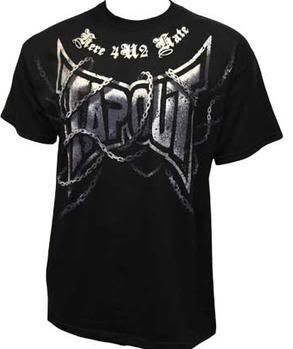 Old English script? Check. Tough guy vibe? Check. Ugly as shit? Check.
This shirt has a special kind of sad. I think this is the kind of shirt they give to the "special kids" after they reach the age of 30. Note the model has, you guessed it, tattoos.
And my special favorite, this one is an actual photo of a guy I saw at the mall. The innocent have been horribly photoshopped for the protection.
this guy not only is rocking the satin winter jacket last seen in Starlight Express, but he has an original Ed Hardy winter hat in canary yellow. I was tempted, after seeing this, to simply drink some bleach, as i'm no longer sure there is any hope for the human race.
And where do we place the blame for all this? I blame the tattoo guys. At some point, tattoos went from being something that only sailors and inmates had to the "hip new thing". Soon, everyone was getting any old thing slapped on their arms, legs, back, and scrotum. What happened to the old days of the lady on the bicep that could be made to dance? Now it's tramp-stamps, "tribal" bands, japanese characters and Calvin peeing on things. Way to class it up, society!
Of course, you might just be Cool.

Or maybe you're all "tribal!"
But nothing prepares you for this kind of thing. I'll remember you forever, in a special way.
It takes a special lady to rock the "Baby Head being eaten by a shark in my armpit" look.
My personal favorite: This one could likely have a post all to itself, as I have many questions, based on the implications it raises. Three things last forever, Faith, Love, and Doggy Style.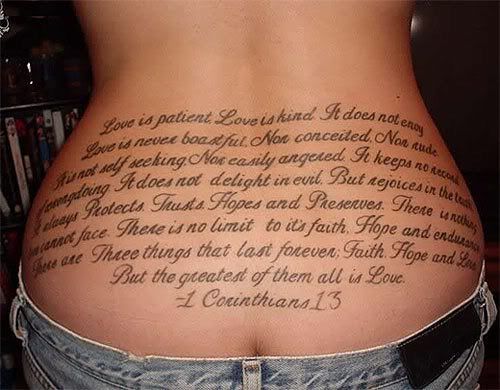 Before anyone starts furiously typing comment defending their "piece of art", save it. A quick trip to the waterpark should give you enough proof as to why getting something etched on you in your 20's is a bad idea in your 40's.
Remember how you make fun of the clothes your parents used to wear? Remember how those clothes came back in style? Well, fashion is eating itself at such a rate now that we're skipping a step, where the clothes are instantly horrible, and won't be back, because the next horrible idea is right behind.
Makes a guy long for the days of the three piece suit again, doesn't it?