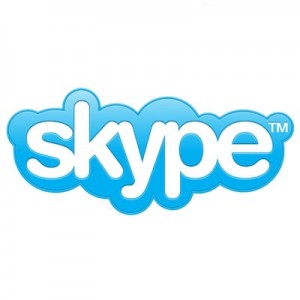 Dear Skype:
Attached is an article which references how audio feedback is created, and prevented. Perhaps, and I am just throwing this out there, you guys could read it before you do your next software revision.
Also, if you could spend some time  learning how to properly code, work on your latency issues (which I have not experienced as extensively with other chat protocol), improve the retinally-detaching-hodge-podge-of-cute-meets-modern interface of your program, and inspect the insidious core audio problems which made my recording session last evening an unenfuckjoyable nightfuckmare of obscure routing issues, that would be really cool of you guys.
Hey, thank you, really, for providing this awesome free service. I  would absolutely consider paying for Skype if I wanted to have more conversations that are like shouting across a canyon which is separated from the other side, visually, by a glass block wall that pixelates the universe into meaninglessness.
Sample conversation:
Friend: How do you like my dress?
Me: All I see are cream coloured squares
Friend: How about this silver bracelet.
Me: I see black squares.
Friend: What's wrong with your computer?
Me: What did you say?
Friend: I said what's wrong with your computer?
Me: You sound like a Cylon swalled a ring-modulator, and then had sex with a vocoder, producing a retarded robot baby. Domo Arigato, Mr. Roboto.
Friend: What?
I have never had an online experience quite like Skype, except for the last time I installed Skype and it kept crashing both my computer and Logic 7. At least now, your newest software only interferes unfathomably with Logic 8 and the other audio software including iTunes.  iTunes, you guys, the internal mic was switching on while I was listening to iTunes.
Short list of programs no normal human has a problem with : iTunes. End of list.
In fact, I am thrilled to announce that I may have to reinstall my OS to correct the pervasive issues- though, again, to your credit, my computer didn't constantly crash, it only began to feedback at outrageous volumes every time it made a noise.
Living with Skype was like living with a ghost- I could hear the sound of myself typing in my headphones, whether or not my preference were set to use the internal mic or not. I was haunted by weird crystalline sounds, pops, hisses and, what I can only presume to have been Brian Eno albums, regardless of  booting up Skype. How in God's name the poltergeist switched off the pads for my active monitors I have no idea, but thank you for the 140 watt surprise at midnight two nights ago. I will forward the letter from my condo board. That's why I am now constantly using my headphones instead of my studio monitors. Hey, do you guys know what it is like to wear over-the-ear headphones in a concrete apartment building in 30 degree heat? I do.  One is forced, eventually, to use rubbing alcohol to swab one's ear cups to prevent headphone mildew.
Someday, I hope that the technology improves enough to the point where I could pick up some kind of hand-held device and have a conversation in real time. Yes, something I could hold in my hand, and then talk into. Something with both a microphone and a speaker built into it, that allowed me to hear a conversation held over long distances. I would certainly be willing to pay 15 cents a minute for such a device to have the privilege of immediacy and consistency. Something that rings when someone calls me. Something I don't have to be there to answer. SOMETHING LIKE A TELEPHONE! You guys have taken 120 year old technology, and made it worse. If you are going to reinvent the hammer, be sure the product you are offering is better than a hammer, and not just metal stick that can be used as a hammer, that also offers the bonus functionality of allowing me to poke things with it, stick like, and has a row of LED lights on it to show if I'm using the hammer or not.
Sincerely,
RobbieRobTown
http://en.wikipedia.org/wiki/Audio_feedback