Here at The Correctness SportsishNetwerkkz, we offer our be-all-end-all absolutely correct answers on which supervillains would win in a fight. Lex Luthor has bankrolled the competition.Which of the 8 will come out on top? The playoffs continue this week in the Pengrowth Deathdrome. It's brutal, ugly, violent, and soul rending…and that's just the comment section!!!
The Rules, and the Bracket were laid out in advance, in this post. Two days of prep, battle is held in the stadium, and it's to the death. Game on.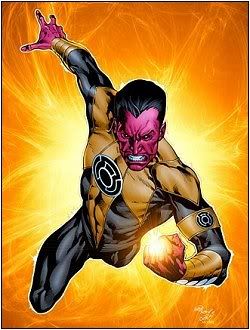 THIS WEEK: Sinestro vs Magneto. For our purposes, Sinestro has yet to become some weird White Lantern, and Magneto is his normal self, but speaks in Ian McKellan's voice, cuz that's pretty badass.
DAVE:
When I considered this battle in my head, there was no possible way that the winner could be anyone but Sinestro. He has one of them there power rings, and they can do pretty much anything. In fact, as Yellow Lanterns use Fear as a weapon, I had constructed a scenario in which Sinestro uses Magneto's memories of the concentration camps, in addition to Magneto's fear of becoming irrelevant within the mutant community. This results in an easy win for Sinestro.
But then I started thinking about Magneto. In addition to being able to control magnetic fields, and therefore anything with metallic content, he can also create an almost impenetrable field around himself, and (this is becoming a weekly thing, where I educate our readers) can create a wormhole. Really Marvel? A wormhole. And yet, people can't stop babbling about how overpowered DC is, Marvel has every single character all healing factored up, and able to create wormholes.
So, here it is. Sinestro attacks, Magneto shells up. Sinestro continues to attack, using fear and giant yellow hammers. Magneto uses various parts of the stadium to bounce off of Sinestro's sheild. This goes on for a while. Magneto figures out the frequency of the Yellow Ring's power, and dissipates it for a moment, and grabs the iron content in Sinestro's blood, draining him instantly. Or (for those of you who claim his alien blood is non-ferrous, he bounces an i-beam off Sinestro's head.) A third option is to dissolve the electromagnetic force holding Sinestro's protons to his electrons (Really Marvel?).
Any way we slice this thing, a fancy power ring can't beat almost 50 years of retconning.

Winnner: Magneto
Tony
Ugh. This one makes my head hurt.
There are so many "Ifs" in play here that as of right now, I have no idea who my choice is going to be.
Let's just count the ways this can go together, shall we?
IF Sinestro's ring is in the least bit ferrous, Magneto immediately crushes it, along with Sinestro's finger. Much wailing and gnashing of teeth follows. Magneto makes fun of the size of his head.
Winner :Magneto.
IF it is not ferrous in any way, Sinestro can easily get the drop on Magneto. It takes awhile to bring a building down on someone, or at least it takes more time than it takes to point your fist at someone and think about crushing them with the power of a nice festive Easter yellow.
Winner: Sinestro
IF Sinestro's power is in fact a MENTAL power, and I think it can be argued that it is, seeing as how it is fueled by a mental state of being…would Magneto's helmet protect him from said power? IF yes, than Sinestro is once again screwed.
Winner: Magneto
IF Sinestro's power is in fact just a manipulation of the light spectrum, and not based on a mental attack, then there is NOTHING Magneto can do to stop it. He has shields to block many kinds of attacks, but to actually stop LIGHT from getting in? I don't think so.
Winner : Sinestro
IF Magneto is in fact the master of all metal, as he's sometimes known, it wouldn't matter if the ring was ferrous or not. Some of my research claims Magneto has dominion over every single metal in the known universe. Scenario one happens, crushed finger. Or he just pulls the ring right off Sinestro's finger. You want to generate some fear? Give a power ring to Magneto and watch the audience shit itself.
Winner Magneto
IF the ring runs on fear, all Sinestro has to do it throw a fright into the crowd, and he will have a TON of energy to run off of. Possibly enough to overcome ANYTHING Magneto can throw at him…
Winner: Sinestro
IF the ring recharges by battling the green spectrum, all Magneto has to do is go on the offensive and wait him out. Magneto can throw a lot of shit his way to keep Sinestro trying to save his own ass until he runs out of juice, then moves in for the kill.
Winner Magneto
Apparently both of these guys have been known to GO BACK IN TIME. IF they chase each other through the ages trying to find the other guy in the crib and kill him, only to be foiled by the other guy and forced to go back even further to kill off a relative. Sinestro gets the drop on Magneto, when Erik takes a quick break from the battle to try and kill Hitler. I guess. No,not really.
Winner: I haven't got a fucking clue.
So you see the dilemma I'm in here. This is predicated on a whole lot of very debatable "ifs"
So here is what I'm going to do. I'm going to pause and count the scenarios up there and see who ends up winning more….Apparently Magneto does 4-3.
I'm going to take a deep breath then and give this one to Magneto. However this is SO close that if anybody can present me with a good argument for Sinestro, I'm fully prepared to flip flop on this.

Winner: Magneto
ROB:
Ahh, okay nerds. Out of my depth. Fortunately, I trust my fellow Correctness pals to bury my opinion at the bottom of the article. If for any reason my article remains near the top, you can be sure it is because Dave or Tony didn't read my post.
Those of you who read our Superhero Smackdowns might recall an incident in which, because of my limited expertise, I went on, what I felt at the time was, a long comic ramble. Many of you fine people then accused me of betraying the only series of articles which drew hits to our website. Many of you accused me of "phoning it in". Some of you said that my comments were purposeless and largely antithetical to the concepts of comedy in general. Far be it from me to get defensive because we run a comedy blog, and we simply do not claim to be expert, and that the purpose of these smackdowns is to foster an amusing debate, and not to be some kind of authoritative canonical resource for you to rely on during your post and then pre masturbatory refractory period.
Here are some facts, which in case you did not read the above paragraph, you cannot dispute because they are absolutely inarguably correct. Both Sinestro and Magneto both have the all powerful "o" at the end of their names. Any supervillain with an "o" at the end of their names is extremely powerful. Just think of the long list of villains with end-in-o powers:
Sinestro
Magneto
Electro
Apocalypto
That's quite a list, and considering one of the supervillains mentioned above is actually a Mel Gibson film, that's all the more reason to agree with me.
Magneto is magnetic, and can do impressive magnetic stuff with metals, I guess, except for some metals, assuming he is ferromagnetic. Similarly, Sinestro is sinister, and controls sinister stuff, like ferrets and ice cream mini-truck drivers, assuming he is ferretmagnetic.
The supply of sinister stuff to hurl through the air is entirely dependent on the environment Sinestro is battling in- in an arena full of supervillain fans, I'm sure he could probably find a metric tonne of moustachioed weirdos who he could manipulate using sinestric fields. Magneto, on the other hand, as long as he is not antiferromagnetic, could probably rip the seats out of the stadium- well, the expansion seats, not the concrete boxes- but the rebar in the concrete boxes, and smash them into Sinestro.
Now, as you know, Sinestro got his powers when he was bitten by a radioactive lantern, and this is relevant because I goddamnwell say so, and I all I have is this blog, ALL I HAVE ON THIS FUCKING EARTH IS THIS GODDAMN COMEDY BLOG, AND THIS IS ALL I HAVE TO LOOK FORWARD TO, AND I AM SO FULL OF FASHIONABLE SELF LOATHING THAT I HATE WRITING HERE, so Sinestro might use his awesome powers to float fat guys and ferrets into Magneto. Magneto would fly some lipstick tubes and passenger trains into Sinestro. In a climactic Akira-esque battle in which blobs of flesh and metal and fur fly hither and yon, the eventual winner would be Magneto, because his hat is cooler.
Please send me your hatred.
Winnner: Magneto
Decision: Magneto
And so Magneto moves on to the Quarter-Finals. Tune in next week to see Dr Doom vs Venom. Marvel vs Marvel. Suck it.
Call us names below!