Superhero Smackdown!
Friday Night Fight!

Here at The Correctness SportsishNetwerkkz, we offer our be-all-end-all absolutely correct answers on which superheroes would win in a fight. Marvel? DC? Watchmen as distributed by DC? Spongebob Squarepants? We're in the second of four quarterfinal matches to determine the winner! The playoffs continue this week in the Pengrowth Deathdrome. Our thirst for blood is growing like a daisy that grows on blood.
This week: The Man of Steel vs the Amazon Princess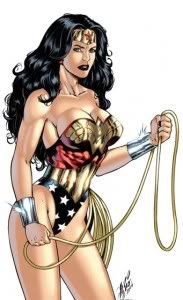 DAVE
This one looks pretty simple at a glance. Superman is strong. Like, REALLY strong. And he's invulnerable to pretty much everything, except rocks from space. And he can fly.
But most of those things are also true of Wonder Woman. And these two have gone toe to toe before, and it wasn't over in a moment. Most people are going to underestimate Diana in this battle, that might be her advantage.
I think the key to the victory lies in the character traits.
Wonder Woman finds out about the impending battle. Visits Batman, gets kryptonite in lead lined box, waits for Supes to arrive.
When he does, she waits, cautiously. Superman steps forward, and launches into a monologue that lasts about 180 minutes, touching on friendship, honesty, how lonely it is to be an alien growing up on Earth. For 179 of those minutes, Diana listens, growing more and more bored, until finally her attention wavers for a moment, and Superman moves in for the knockout. One punch, and a lot of super fucking boring talking.
Because that's who Superman is. An overpowered, uninteresting blowhard. He's that jock from high school who can't shut up about how great it was to be in high school, and when you friend him on facebook, all of his status updates are about how awesome it is to have friends from high school around.
Eventually, you unfriend him, and he destroys your house by dropping a tree on it. But I digress.
Winner: Superman
Rob
Golly wonkers you guys, I'm still reeling from all the bitching about how Kitty Pryde was gonna take the match and how everyone hated that idea, and then when Wolverine beat her how you all complained about that. Well, I'm not falling for that trap again. I'll side with whoever I feel like, and you can all just complain that you are leaving the site forever, but then not leave, because I will charm you with….uh…. whatever attributes that I have which are charming.
Okay, here are some facts:
1. Superman got his powers when he was bitten by a radioactive lantern on the planet Vulcan. Wonder Woman has a costume which looks better illustrated than in a live action TV show.. Edge: Hal Jordan
2. The people at the University of Wikipedia Warsaw Campus assure me that part of Wonder Woman's incredible strength comes Amazon training involving focusing her mental energy into her body. However, "her powers would be removed, in accordance with Aphrodite's Law, if she allowed herself to be bound or chained by a male.". This is inarguably the hottest thing I have ever heard described, and I am in no way requesting links to the fan illustrations of Wonder Woman in compromising positions involving bondage. Edge: Wonder Woman.
3. Not to belabour the point too much, but if Wonder Woman and Kitty Pryde found themselves in some kind of crossover in which they had to use their combined feminine powers to escape from some kind of sexy dungeon, possibly Arkham Asylum, I would buy all six issues of that miniseries. It would be best if there was some kind of tentacled creature involved as well. Edge: Wonder Woman
4. Superman is Superman. Deus Ex Machina. He is like what Baptists think Jesus is like. Edge: Superman
5. Has anyone else read Niven's "Man of Steel, Woman of Kleenex"? It has nothing to do with this fight, but it sure as hell makes me think.
6. So, Maybe Kitty Pryde has to gently kiss some kind of toxic poison off the lips of Wonder Woman, but then, a single strand of this poison which is only dangerous to WW trickles down her midriff and to regions lower. What is Kitty Pryde to do?  The soft lighting of the dungeon and the scent of incense fills the room with an aura reminiscent of hot summers by the lakeshore, with a looming thunderstorm that might cool things down just so… Once the poison has been removed, the two share a strange silent moment of closeness.
Anywho, this is a fight to the death, and we have to assume that Clark Kent would get the fuck over himself, and kill Wonder Woman. No amount of boy scout ethics or Kent-Farm-Wisdom will stop him from annihilating her. This is too bad, because she's about the only living woman he could breed with successfully. Assuming, that is, that their DNA was compatible, which it cannot for any fathomable reason be. Kryptonians are solar powered freaks, and humans are easily killed by swine flu.
Winner: Superman
Loser: Superman's future babies.
TONY
Where this one gets interesting of course, if one can claim that it is at all, is that because these two work together so closely, they absolutely know how to exploit each others weaknesses.
and then will completely fail to do so based on a strong sense of honor.
So it'll be knock down drag out. I don't think she'd use kryptonite, even if she could get some. It would seem like "Cheating"
Late era Wonder women as opposed to her sexist/fetishist earlier incarnations, has been written more Xena and less She Sa if you take my meaning. She's a warrior, with a berserker streak. She often chides Superman for NOT using everything he's got and behaving like the God he is. Plus she's got a magic sword that cuts through everything like butter. Apparently she's even taken Bats AND Supes out before. there is precedence and canon here.
But that said…I'm still giving it to Superman. There is just too much going on with that dude power wise. It's almost like at some point they just made up a new power for him every week, and then they were stuck with them all.That's how his crappier villains were born.
"Uhhh…how about another Superman, with bad skin and he…talks backward?s Oh and a magic elf that won't go away until you say his name backwards!"
They were very big on backwards in the Superman writers room at some point, it seems.
So with edge to Superman, and with deference to the whole "Just fly her into space" arguement, I'm giving this one to The big Blue Boyscout
Winner: Superman
DECISION: Superman
So the Semi Finals are Set! Flash vs Batman, Wolverine vs Superman.
Next week: Flash vs Batman!
Tell us how wrong and dumb we are below!