(Note: This is a repost of the original article)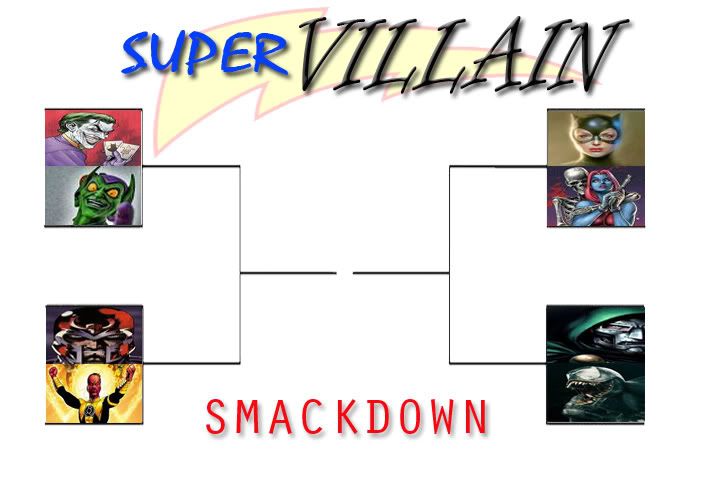 Here it is, at long last. The eight contestants in the Supervillain Smackdown. Johnny, tell us who is in the tournament, won't you?
JOHNNY ANNOUNCERMAN: Sure thing Tony, week one sees the Clown Prince of Crime, The Joker squaring off vs. The nefarious Green Goblin. We can all be certain gas will somehow be involved, and the Joker may even sue for copyright infringement. Then in week two, it's fanboy wet dream night as lithe and lovely Catwoman takes on the woman who was blue skinned and hassled by "The Man" looong before anybody in Avatar was…Mystique! Week three…The Master of Metal Magneto will "Test his metal" against the head of the Yellow Lantern corps Sinestro in the "Battle of Guys Whose Name Ends in O". Then in week 4 The Ruler of Latveria is seeking revenge for his weak ass portrayal in the movies! Dr. Doom will be taking his frustrations out on Venom, who is seriously pissed off for the EXACT SAME REASON. Tickets are on sale now, but God help you if you buy one.
Tony: Thanks Johnny. FAQ time…
Uh…Where the hell is Lex Luthor?
He's bankrolling the whole thing. We figured he wasn't the sort to get his hands dirty.
Where the Hell is Ozymandias?
Too powerful. No matter what happened in the arena, he would have already set forth the plan that would kill his opponent 30 minutes ago.
Where the Hell is______________?
Look people, there were only 8 spots, we had to try and bring balance to the whole thing. On the plus side, we will also be creating short 1 off battles called "The Undercard" where we can speculate about Gargamel vs. Daedalus all we want without pissing off those who tend to take this exercise rather more seriously then it is meant to be taken.
Does the two day prep rule still apply?
Yes it does.
Where SPECIFICALLY does this take place, as it affects the outcome?
It's a pre planned, funded fight, in a stadium, with a roof.
Is this to the death?
I can't think of anybody, besides maybe Catwoman who wouldn't kill someone, so yes…to the death.
Can we heap abuse on you in the comment section if we don't agree with you?
We wouldn't have it any other way.

When does this start?
Tomorrow, boys and girls. Buckle up.
————————————————————