We're heading towards summer, and to comic book fans, that always means a big old crossover. Sometimes, crossover events can be world changing issues of awesomeness, and sometimes, they can just be an excuse for crappy storylines that force readers to buy a ton of books they normally wouldn't.
This summer, Marvel is bringing us an event called "Fear Itself", the details of which are still pretty fuzzy. Apparently, it involves the God of Fear causing problems for the Marvel heros, playing their worst fears against them.
DC brings us "Flashpoint", which, as far as I can tell, involves Professor Zoom rewriting events in history, causing changes in the heroes, etc. DC claims that the event will change the universe forever. Oh, and the only hero that knows things are wrong is Booster Gold.
In light of this, I was pondering crossover events from the past, and trying to determine which of these events had the bigger chance of being decent. There are a lot of factors to consider, so let's get to it.
Writing: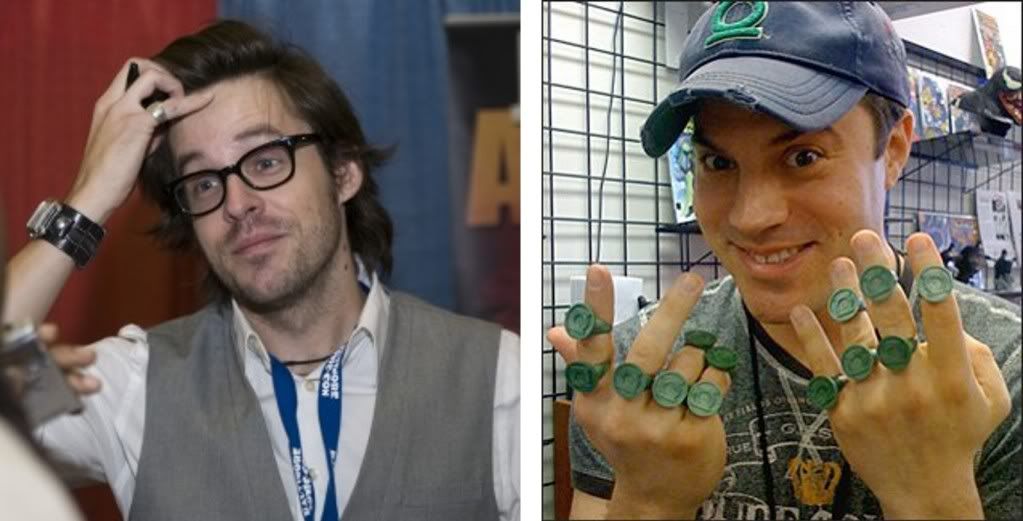 "Fear Itself" is written primarily by Matt Fraction, almost guaranteeing a million small word boxes with single word sentences. I don't dislike Fraction, but I haven't really enjoyed his work on Uncanny X-Men. "Flashpoint" is helmed by Geoff Johns, who has written some great stuff in the past. Lately, it seems like his job at DC is to shoehorn crappy third rung heroes in to marketable quantities. "Brightest Day", when broken down to it's components, is essentially "Hey, Aquaman and Hawkman are kinda cool… right? Guys? Right?". Might be a coincidence that Cyborg is the biggest hero in the Flashpoint universe, but I doubt it.
Oh, and I should note that while it seems weird that there's no "Illustrating" heading here, it makes sense, as often there are multiple artists on board for events. Andy Kubert is penciling the main books for "Flashpoint" and "Fear Itself" will be drawn by Stuart Immonen, Wayne Von Grawbadger, and Laura Martin.
Edge: DC. "Flashpoint". Johns knows how to structure a big story, has the Gl Corp/Sinestro Corp war under his belt, not to mention "Blackest Night".
Most Recent Events: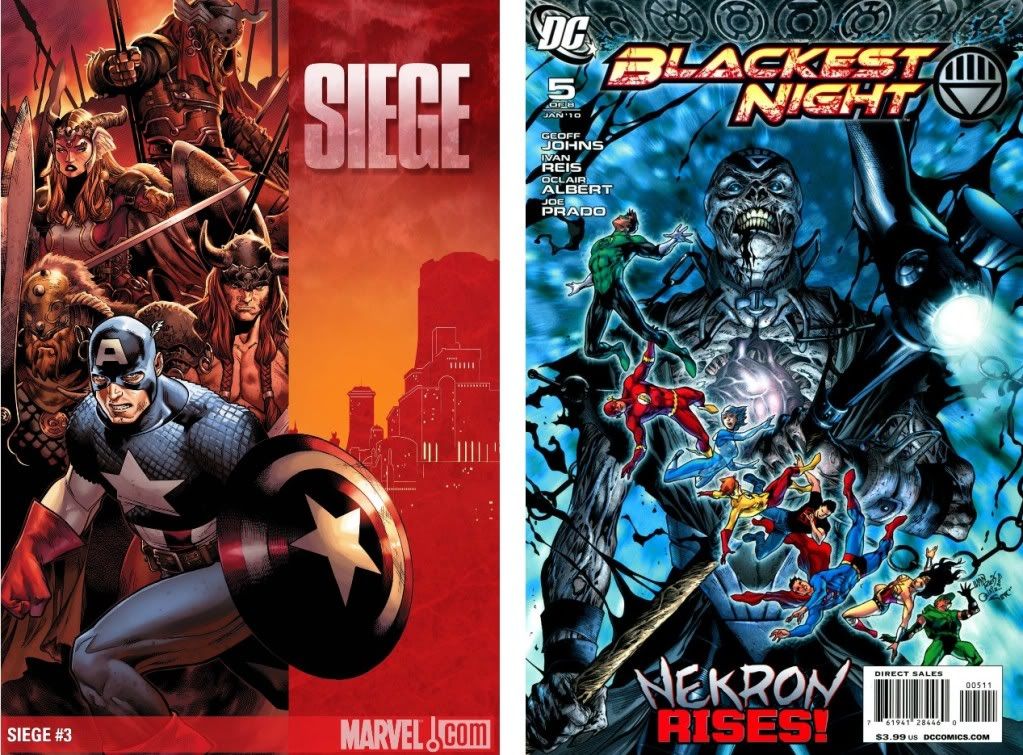 Marvel's event prior to this was "Siege". DC had "Blackest Night". Full disclosure here: Didn't read Siege. Read Blackest Night. I've never been a big Avengers fan, and thus I didn't pick up Siege, which doesn't seem to have hurt me much thus far. It seemed to be received decently, with little praise or impact. (SPOILER) The Sentry died. No one cared. Worst Ret-con hero ever.
"Blackest Night" was a cavalcade of colours, shiny covers and new characters. It was a lot of build-up with an underwhelming climax. The prismatic concept was a logical one for the Green Lantern universe, and creates a big sandbox for the writers to play in. Oh, and we got Larfleeze out of the deal, and Dex-Starr, house cat of rage. On the down side, we got a lot of dead heroes back that were probably better left dead.
Edge: DC "Blackest Night" made a much bigger splash than "Siege", and energized the Green Lantern franchise.
The Last Decade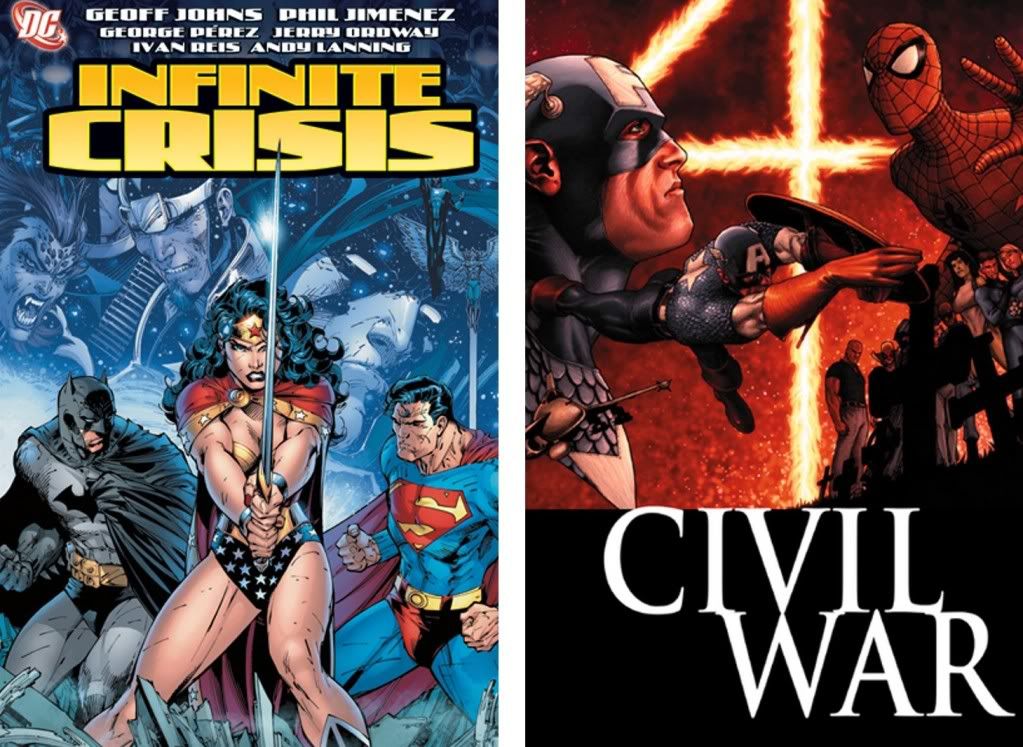 The DC events in the last decade or so center around "Crisis". Not that surprising, as "Crisis on Infinite Earths" was the defining moment eventwise in the DC Universe. We had Identity Crisis, which might have done itself a disservice with that title, as it wasn't a universe wide event, but rather, a well controlled murder mystery. Then we moved on to Infinite Crisis, which started with a fairly interesting premise (heroes from another version of Earth look at our world, see how dark and violent our heroes have become, and decide to set things right. A fairly bold self-examination of DC about its titles in the 1990s. Then it gets all dumb, and people punch things into existence, and way too many plot lines start running amok. There was One Year Later, which gave DC the chance to focus on their not Batman Superman and Wonder Wman titles. After which we get Final Crisis. There simply aren't words to describe the bizarre, impenetrable, weird amount of suck Final Crisis represents.
The next time you're at your LCS (Local Comic Shop) and someone starts going off about how awesome Grant Morrison is, don't say anything. Just nod your head in the direction of the Final Crisis trade, and watch as their eyes follow yours, and the realization on their face, as they shut the hell up, knowing they can no longer make a reasonable argument. (Actually, I think, like Straczynski, Morrison is one of the better "starting pitchers" in the comics world. Both of them tend to wear themselves out early, and for the love all things good, make sure you take them out before they mess things up forever. The owner of my LCS gets credit for the baseball metaphor).
On the Marvel side, we had The House of M, which shook up the X-Men world! (Of course, that happens every 3 to 4 months…) Then Civil War, an all out battle between heroes, marked mostly by strange leaps in characterization for plot purposes. There was Dark Reign, which let Norman Osborne loose on the Marvel universe, and World War Hulk, which was just plain fun. Marvel, it should be noted, did an excellent job of weaving their events together, and having the ramifications of one effect the next.
Edge: Marvel. Their Universe feels more fleshed out, and there seems to be some direction and continuity.
Best of the Best: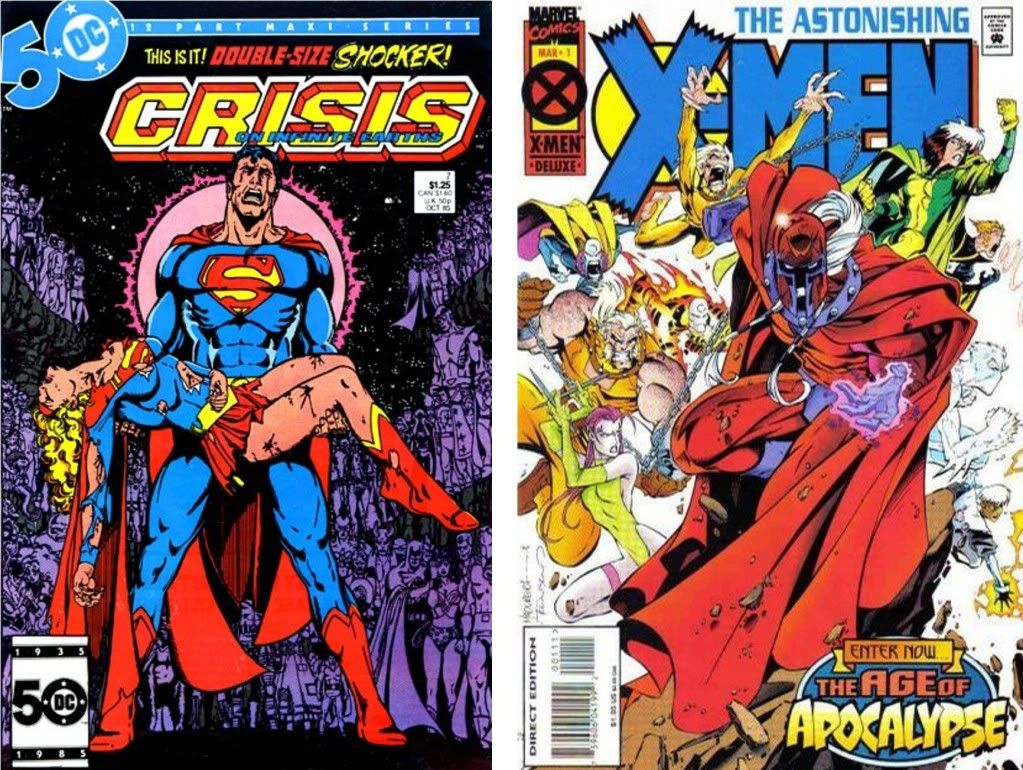 The era of the modern crossover began in the early eighties. Marvel's "Secret Wars" was arguably the first event to bring in a large stable of heroes, have its effects felt in other books, and create lasting changes in the Universe. Right on its heels was DC "Crisis on Infinite Earths", which upped the ante with character deaths and increased stakes for the characters. Since then, there have been countless events, big and small. Which ones were the best? I'm sure you'll tell me in the comments section. For me, the best ones are the ones that stand out in your memory. They have weight, they have a story that is true to the rules it sets up, and leaves things differently than they found them. I'd probably go with Crisis on Infinite Earths as the best big crossover. It felt more real than Secret Wars, had more impact. (Note, I've just realized it looks like I'm simply choosing between CoIE and SW. I'm not.) Another personal favorite was Age of Apocalypse, the X-Men event that took place in an alternate world, brought familiar characters in unfamiliar versions of themselves, and even took the step of changing the titles for the duration of its run. It was a big, fun ride. I also like Identity Crisis, which, as I mentioned earlier, might not deserve to be part of this fight, but is easily the best written of anything I've talked about today.
Edge: DC. Crisis still takes the cake.
Worst of the Worst
When crossovers go bad, they go BAD! Both major companies have had their share of bad, but only one has elevated the bad crossover to epic proportions. Marvel has unleashed upon us a wave of bad crossover dreck. Infinity War. Secret Wars II. Atlantis Attacks. Heroes Reborn. Hell, we could write another entire article plumbing the depths of bad Marvel crossovers.
DC isn't innocent here either. Invasion/Armageddon, Knightfall, No Man's Land, and the aftermath of the Death of Superman. They seem to try and keep the really bad stuff confined to a character and their books. Is there a term for crossovers that play out inside a small number of books? If so, someone tell the X-Men writers, they have constant use for it.
Edge: Marvel. They seem to have recovered lately, but historically, they're the kings.
So, final tally has DC up 3-2. Is that any indication that "Flashpoint" will be better than "Fear Itself"? Nope. My gut says it will, but only time will tell.
*** It occurs to me that lately I've become a bigger DC fan than a Marvel fan, which is weird and surprising to me. I grew up on Marvel, worshipped John Byrne and Chris Claremont. Didn't read much DC at all until my 20s. I haven't looked at my current pull list, but I suspect I'm buying roughly the same number of titles from both. For some reason, I seem to be more drawn to DC lately. Better writing? Less of the "27 titles for a popular character/group"? Not sure. I know I really like Hickman's Fantastic Four right now, and Uncanny X-Force is a blast. I've enjoyed Batman and Robin, and Booster Gold (not so much lately…) and was loving Green Lantern, up until the end of Blackest Night, after which I think it has cratered in quality. I had high hopes for JMS's Superman and Wonder Woman runs, both of which were disappointing. Anyhow, the point of this massive rambling note was to state outright that I'm not a "fanboy" for one company or the other. I'm a fanboy of good storytelling.