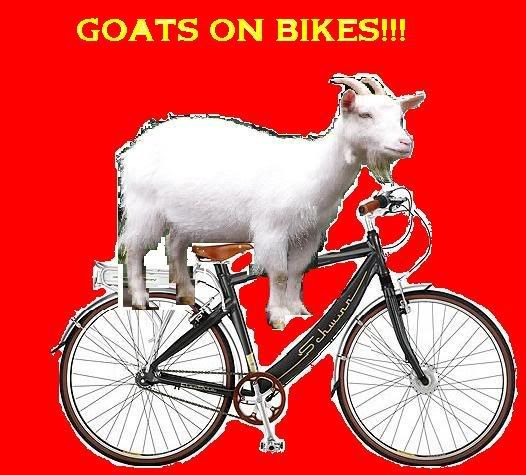 Smackdown: AWESOME UNDERCARD 2: Aquaman vs. Robin vs. Goats on Bicycles
Since our much criticized elimination of Robin and Aquaman from our Superhero Smackdown, our fans (okay, one fan) have been calling out in eerie unison: "Bring back Aquaman and Robin!". You have climbed the steps of Mt. Seleyah, you have smelled the smell of salmon on your hands, you have been, and ever shall be their friend. Well, your prayers have been answered, because as the still unmarried 1/3 of The Correctness, I alone have the time available to pander to our superfans* (*fan).  I have been a little busy fellating donkeys to think the really deep thoughts, but we're not here to talk about what I did to which species, or who saw what and told which ladies, sealing my celibate fate.
Let's get down to brass tacks, as they say in the fabric measurement industry. Today's battle is between Robin the Boy Wonder (who for our purposes, I guess is Dick Grayson), Aquaman (who for our purposes is Ariel), and Goats on Bicycles (X-Men vol 1, issue133 : Hideous Goats on Bikes: Dark Phoenix Saga).
First up is Robin, the "Boy Wonder" or, alternately, the boy "Wonder". Dick Grayson is the son of some circus acrobats. After the murder of his parents, Grayson was raised in a cave by a wealthy weirdo in hosiery, and there is little canonical evidence to suggest that Robin had developed any strange fetishes because of it. Mind you, I'd turn out all kinds of straight if Black Canary showed up in my neighbourhood when I was a kid- or Vicki Vale…
Next up is Aquaman. The Aquaman was the 16 year old daughter of King Triton. She was obsessed with the human world above the sea, and the stories of her journeys from town to town were featured in a weekly Canadian drama series called "The Littlest Mermaid Hobo". In fan favourite episode "A Mock Fish Time", Mermaid Hobo helps a reporter (played by Efrem Zimbalist Jr) track down a sasquatch-like creature. Memorable stuff.
Both Aquaman and Robin were part of a highly influential team of superheroes known as The West Coast Avengers. Along with drummer Dave Grohl, the West Coast Avengers played 45 sold out shows on their "Fortress of Solid-tude" tour in the summer of '97.
Facing off against the penultimate dynamic duo is the terror of Goats on Bicycles. They are Goats on Bicycles. Mother fucking goats on bicycles. They are regular goats, on bicycles, but they are fucking the fuck on fucking bicycles. Who taught those goats how to ride bicycles? Why do they keep riding past your house? Circling, and circling, around the block, again and again and again, bleating their preternatural bleats, chewing on tin cans and shoes, menacing and drooling as they pedal. The whoosh of the streamers on their handlebars, the clinkity clink of those things that go on their spokes.  What about the pants-filling image of dozens upon dozens of cloven hooves striking dozens upon dozens of platform pedals, the squeaking chains, the banana seats- WHY ARE THEY ON BIKES? THEY DON'T BELONG ON BIKES! DEMONIC GOATS ON FUCKING BICYCLES!! Good Lord, some of them are wearing helmets, and their leader has a bandanna tied around his left front leg, and his denim jacket has the sleeves cut off. What's that patch on the back of his jacket say? Jesus, it says "Satyr-day Night Fever". Mother the fuck fucking goat fucking goat assed goats on fucking the fucking bi-fucking-cy-the-fuck-cles! GOATS ON BIKES!!!!
There is no way this fight can go well. Robin has been known to kick some ass, and he may or not be Batman right now in the DC universe. One thing is certain; Dick Grayson has never, ever faced an enemy like goats on bikes. What the hell is wrong with them? They are on fucking bikes! BIKES! Robin and Aquaman would definitely have to team up to defeat a foe of this magnitude!
Aquaman and Robin have worked together before on "The Case of the Missing Chums", and subsequently in "The Keep on the Borderlands", so they have an excellent team dynamic. Likely, when faced by the arrival of the Goats on Bicycles, Aquaman would summon either Nemo, or that super mean fish from Sea World. Meanwhile, Robin would practice his crane kick and prepare himself like he would if he was facing the Cobra-Kai dojo en masse.  At this point in the paragraph, I would like to reference three more things from my childhood, for no apparent reason and without emphasis on their importance: Sectaurs, Tahiti Treat, Super Grover.  I was an adult by the time Finding Nemo was released, but killer whales have been killing people since I was young.
The Goats on Bicycles are not stupid. They know that Aquaman is better near water, and they also know other comedians and television programs have mocked her uselessness away from the water.  Consequently, this battle will end up taking place in the Mid-Atlantic, where Robin would be having a hard time swimming. Sure, Aquaman is in her element, and she can call on her racial-stereotype singing crab friend to assist in the battle, but poor Robin would be wishing he had borrowed the Bat-wet-suit, or an assload of Bat-shams.
"Holy Goats on Bikes!" Robin would say.
"Blub blub blub!" Aquaman would say.
I honestly couldn't imagine this going well for the Dynamic Duet. Once the goats on bikes have had time to prepare you know they would show up on fucking seadoos. GOATS ON JETSKIS! Mother the fuck fucking goat the fuck S on jet the fucking fuck ski the fuck S!
My God, Imagine them, pedaling around on their barge, while the ones on jetskis speed through the choppy surf like some nightmarish deleted scene from The Road Warrior, or an even more nightmarishly undeleted scene from Waterworld. Goats upon horrible goats, bleating and bleating and bleating!
Winner: Goats on Bikes
Loser: Humanity