About
The Correctness is a complete guide to living. Simply adopt the attitudes and opinions espoused herein, and you will be living correctly.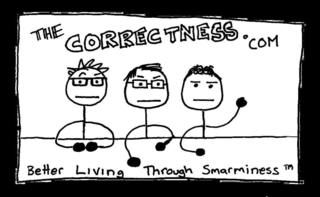 TBinns (Tony), RobbieRobTown (Rob), and The Illustrious admin_rock (Dave) are pleased to attempt to provide chuckles for the reading public.  We suppose if you don't chuckle, you don't have to hang out here.
Some Personal Messages From the Correctness:
Dave: Welcome all to The Correctness!
Tony: Yes! Join us here for the funnies, and whatnot!
Rob: I will chime in redundantly!
Contact us using the Letters at the address of thecorrectness, which is located @thecorrectness.com